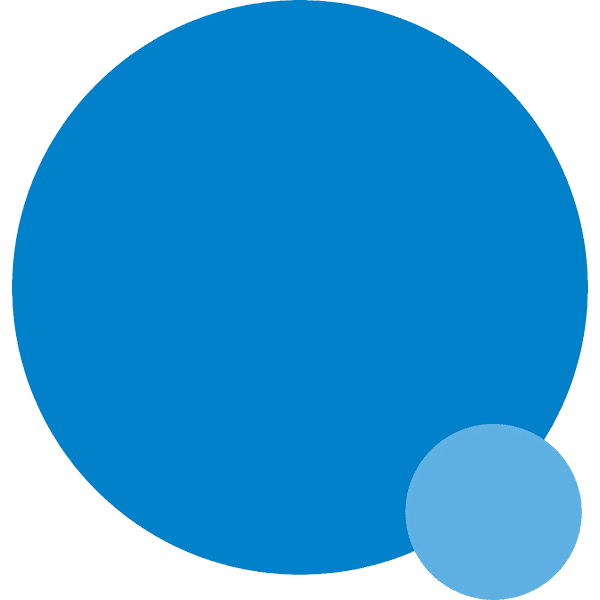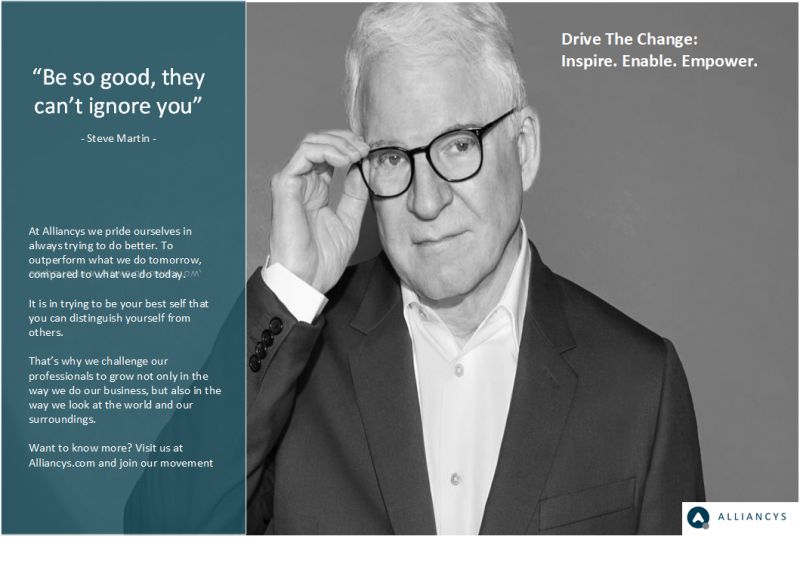 "Be so good, they can't ignore you"
– Steve Martin –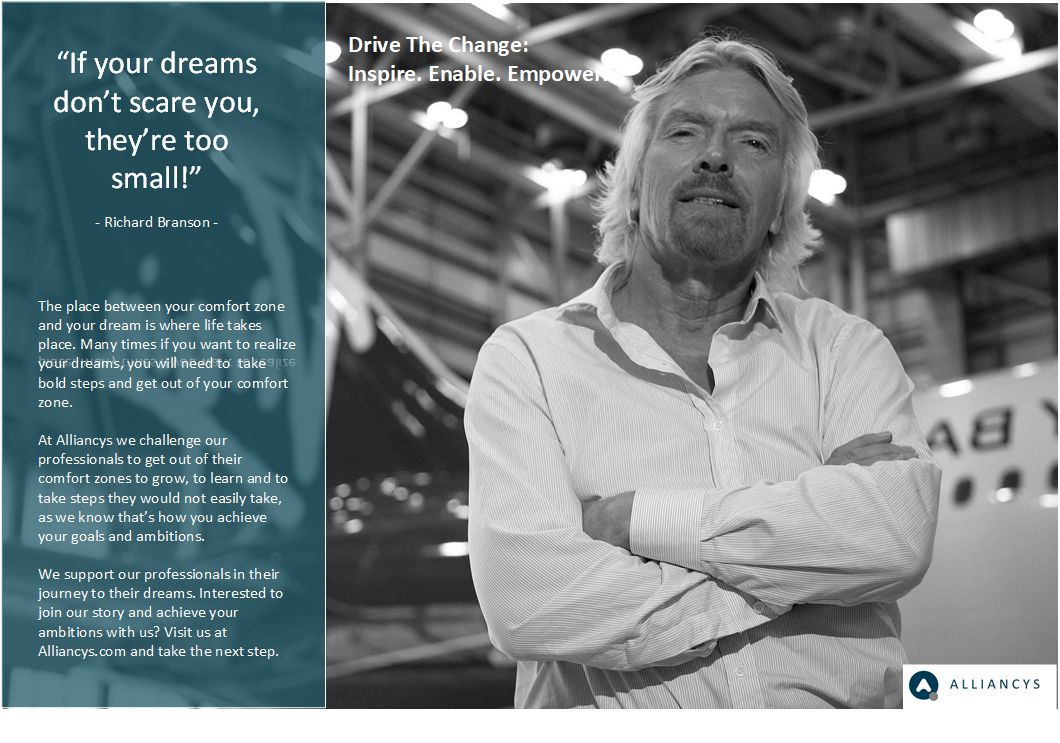 "If your dreams don't scare you, they're too small!"
– Richard Branson-
The place between your comfort zone and your dream is where life takes place. Many times if you want to realize your dreams, you will need to take bold steps and get out of your comfort zone. At Alliancys we challenge our professionals to get out of their comfort zones to grow, to learn and to take steps they would not easily take, as we know that's how you achieve your goals and ambitions.
We support our professionals in their journey to their dreams. Interested to join our story and achieve your ambitions with us and take the next step.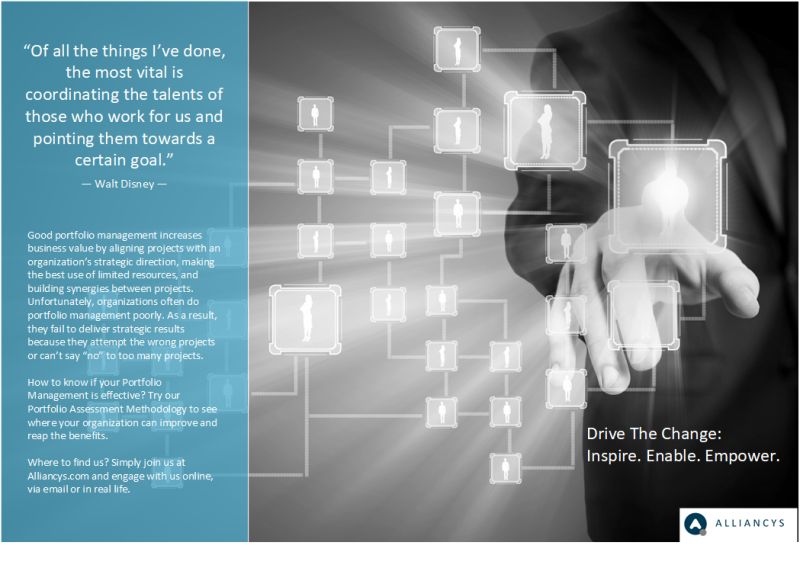 "Of all the things I've done, the most vital is coordinating the talents of those who work for us and pointing them towards a certain goal."
– Walt Disney –
Good portfolio management increases business value by aligning projects with an organization's strategic direction, making the best use of limited resources, and building synergies between projects. Unfortunately, organizations often do portfolio management poorly. As a result, they fail to deliver strategic results because they attempt the wrong projects or can't say "no" to too many projects. How to know if your Portfolio Management is effective?
Try our Portfolio Assessment Methodology to see where your organization can improve and reap the benefits. "
Individually we are one drop, but together we are an ocean.

"
–
Ryunosuke Satoro

–
At Alliancys we believe that success can only be achieved by working together to achieve a common vision or (project) goal. This is why we also believe in the strength of partnerships to empower our clients (or partners) in achieving their goals and facing their challenges.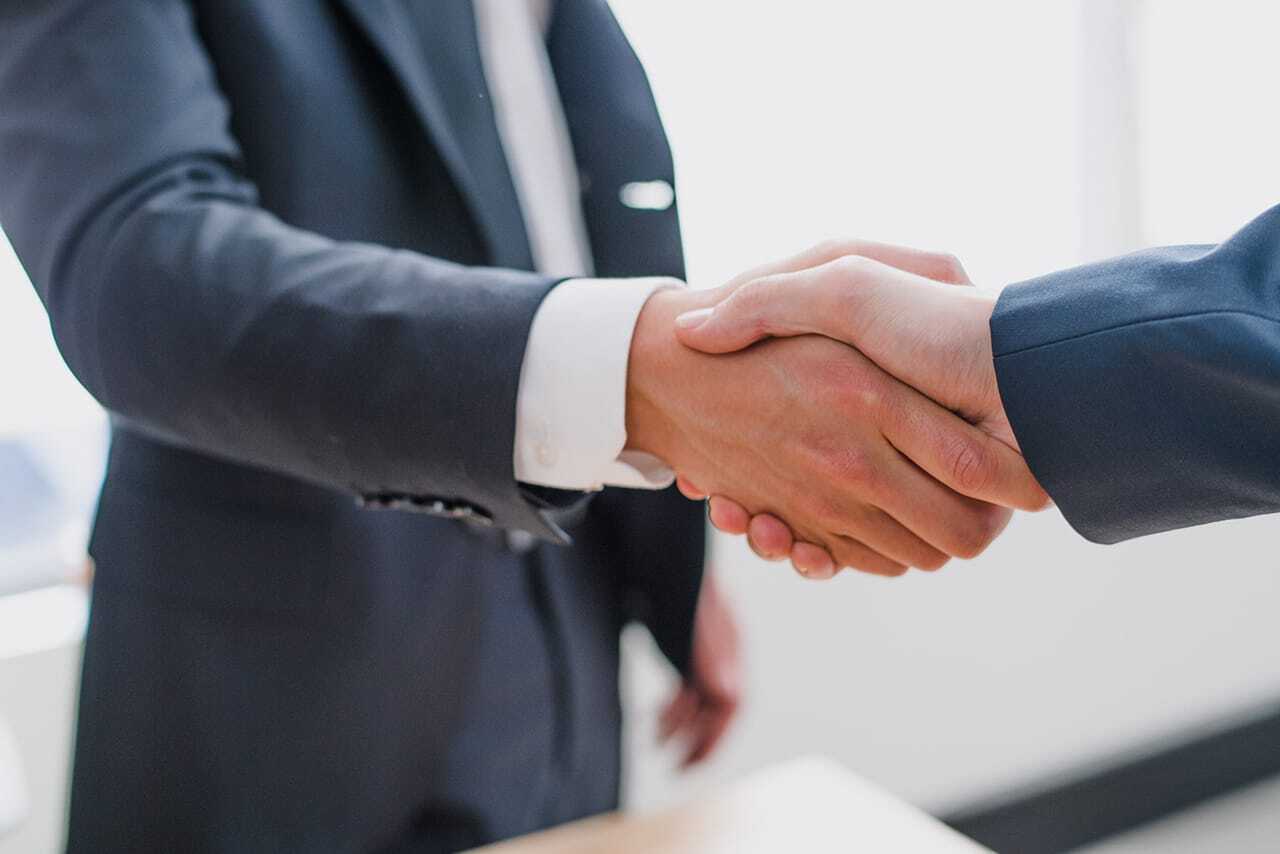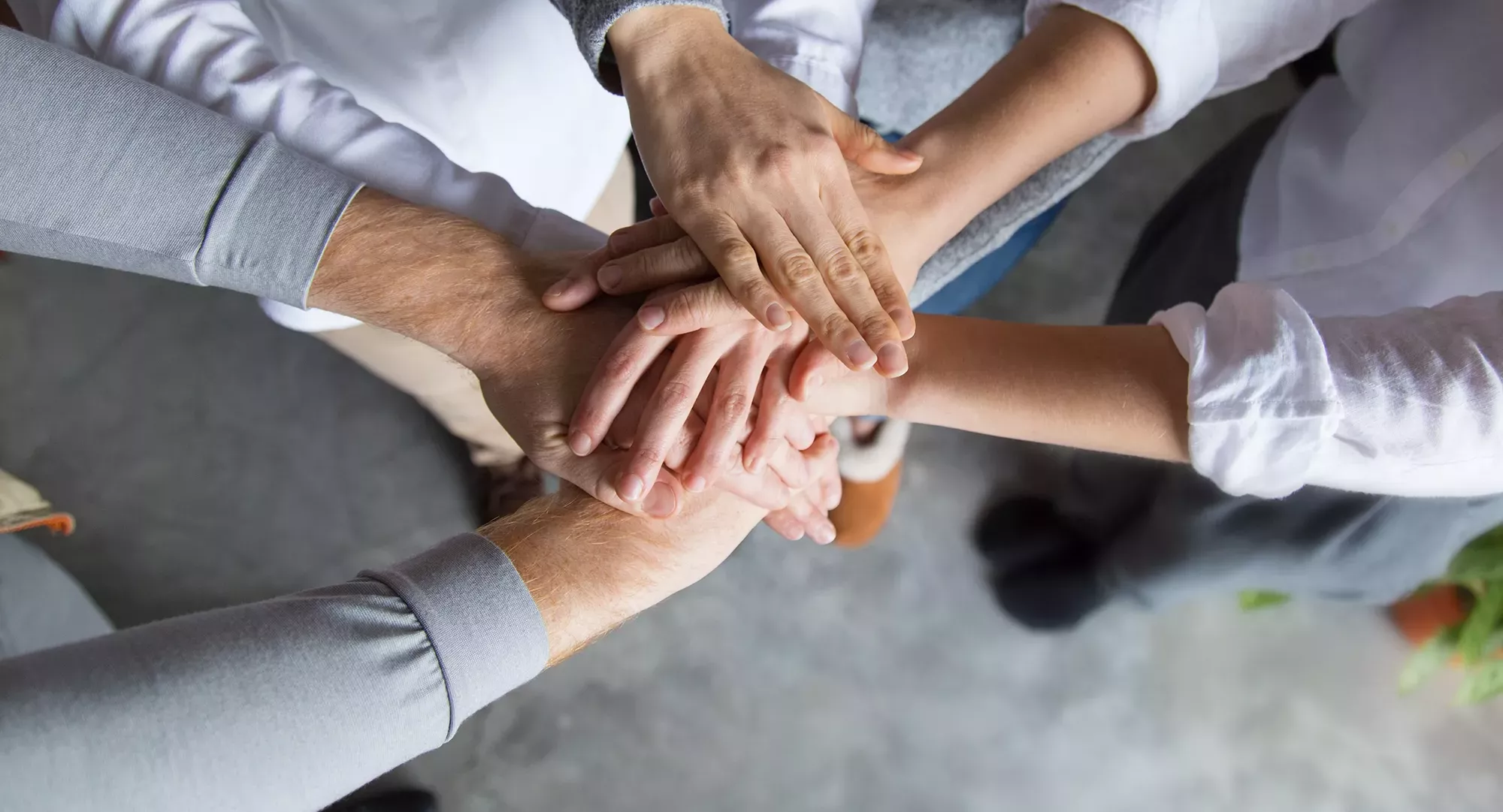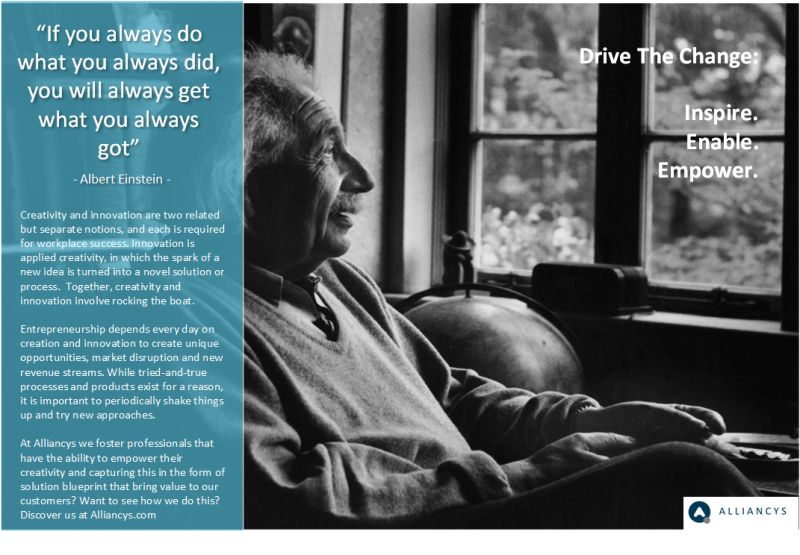 "f you always do what you always did, you will always get what you always got."
– Albert Einstein –

Creativity and innovation are two related but separate notions, and each is required for workplace success. Innovation is applied creativity, in which the spark of a new idea is turned into a novel solution or process.
Together, creativity and innovation involve rocking the boat. Entrepreneurship depends every day on creation and innovation to create unique opportunities, market disruption and new revenue streams. While tried-and-true processes and products exist for a reason, it is important to periodically shake things up and try new approaches.
At Alliancys we foster professionals that have the ability to empower their creativity and capturing this in the form of solution blueprint that bring value to our customers? Want to see how we do this? 
#innovations #oppertunities #creativity #solutions #solutionproviders #blueprints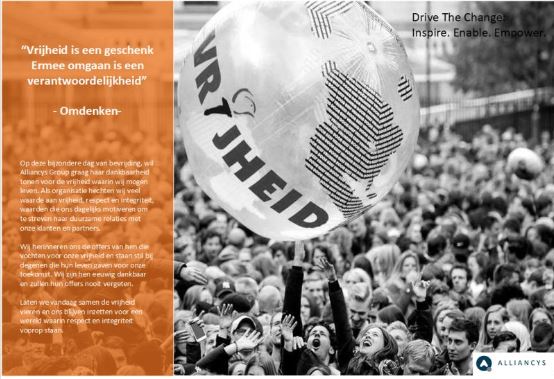 "Vrijheid is een geschenk. Ermee omgaan is een verantwoordelijkheid"
– Omdenken –
Op deze bijzondere dag van bevrijding, wil Alliancys Group graag haar dankbaarheid tonen voor de vrijheid waarin wij mogen leven. Als organisatie hechten wij veel waarde aan vrijheid, respect en integriteit, waarden die ons dagelijks motiveren om te streven naar duurzame relaties met onze klanten en partners.
Wij herinneren ons de offers van hen die vochten voor onze vrijheid en staan stil bij degenen die hun leven gaven voor onze toekomst. Wij zijn hen eeuwig dankbaar en zullen hun offers nooit vergeten.
Laten we vandaag samen de vrijheid vieren en ons blijven inzetten voor een wereld waarin respect en integriteit voorop staan.
#vrijheid #5mei #bevrijdingsdag #dankbaar #respect #integriteit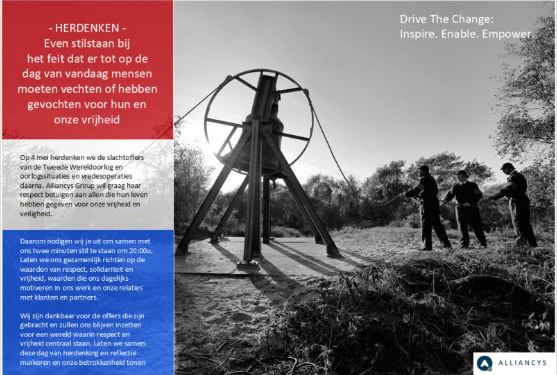 Even stilstaan bij het feit dat er tot op de dag van vandaag mensen moeten vechten of hebben gevochten voor hun en onze vrijheid
Op 4 mei herdenken we de slachtoffers van de Tweede Wereldoorlog en oorlogssituaties en vredesoperaties daarna. Alliancys Group wil graag haar respect betuigen aan allen die hun leven hebben gegeven voor onze vrijheid en veiligheid.
Daarom nodigen wij je uit om samen met ons twee minuten stil te staan om 20:00u. Laten we ons gezamenlijk richten op de waarden van respect, solidariteit en vrijheid, waarden die ons dagelijks motiveren in ons werk en onze relaties met klanten en partners.
Wij zijn dankbaar voor de offers die zijn gebracht en zullen ons blijven inzetten voor een wereld waarin respect en vrijheid centraal staan. Laten we samen deze dag van herdenking en reflectie markeren en onze betrokkenheid tonen
#respect #dodenherdenking #4mei #stilte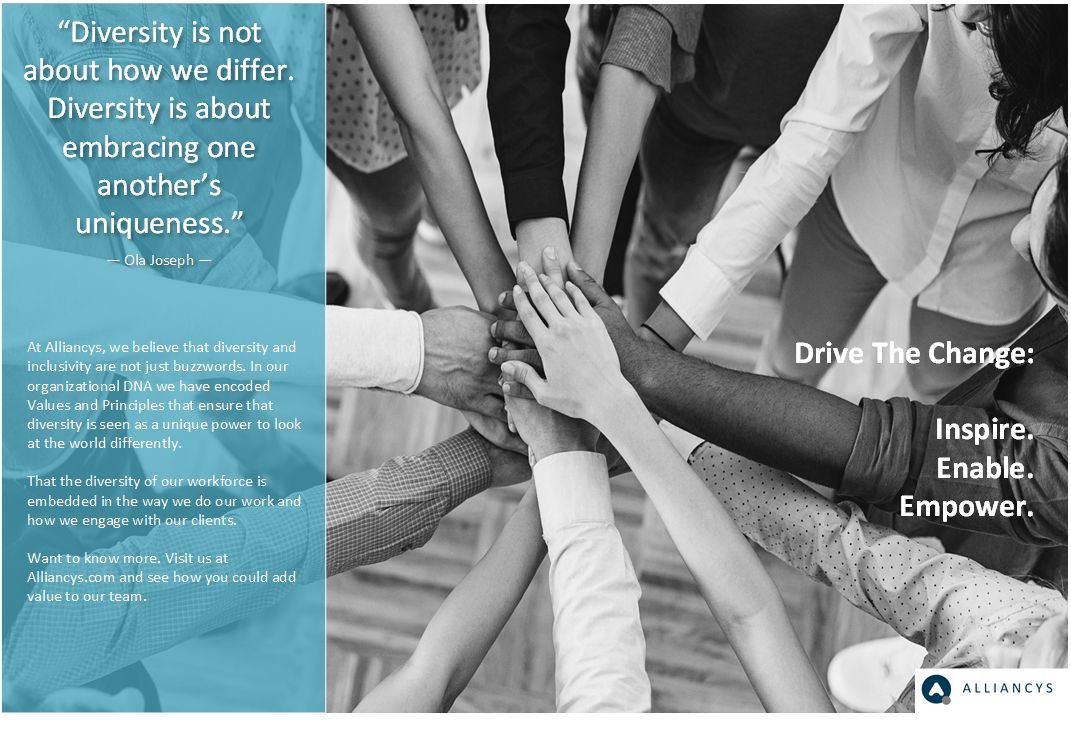 Diversity is not about how we differ
"Diversity is not about how we differ. Diversity is about embracing one another's uniqueness."
– Ola Joseph –

At Alliancys, we believe that diversity and inclusivity are not just buzzwords. In our organizational DNA we have encoded Values and Principles that ensure that diversity is seen as a unique power to look at the world differently. That the diversity of our workforce is embedded in the way we do our work and how we engage with our clients.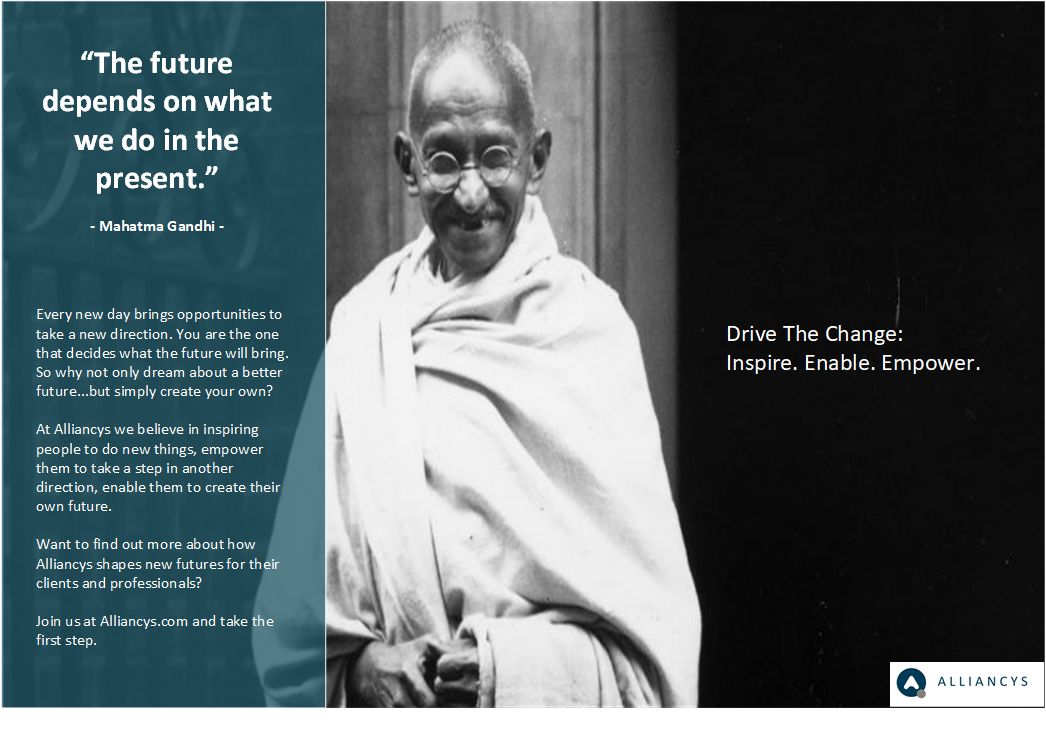 "The future depends on what we do in the present."
– Mahatma Gandhi –
Every new day brings opportunities to take a new direction. You are the one that decides what the future will bring. So why not only dream about a better future…but simply create your own? At Alliancys we believe in inspiring people to do new things, empower them to take a step in another direction, enable them to create their own future.
#opportunities #future #people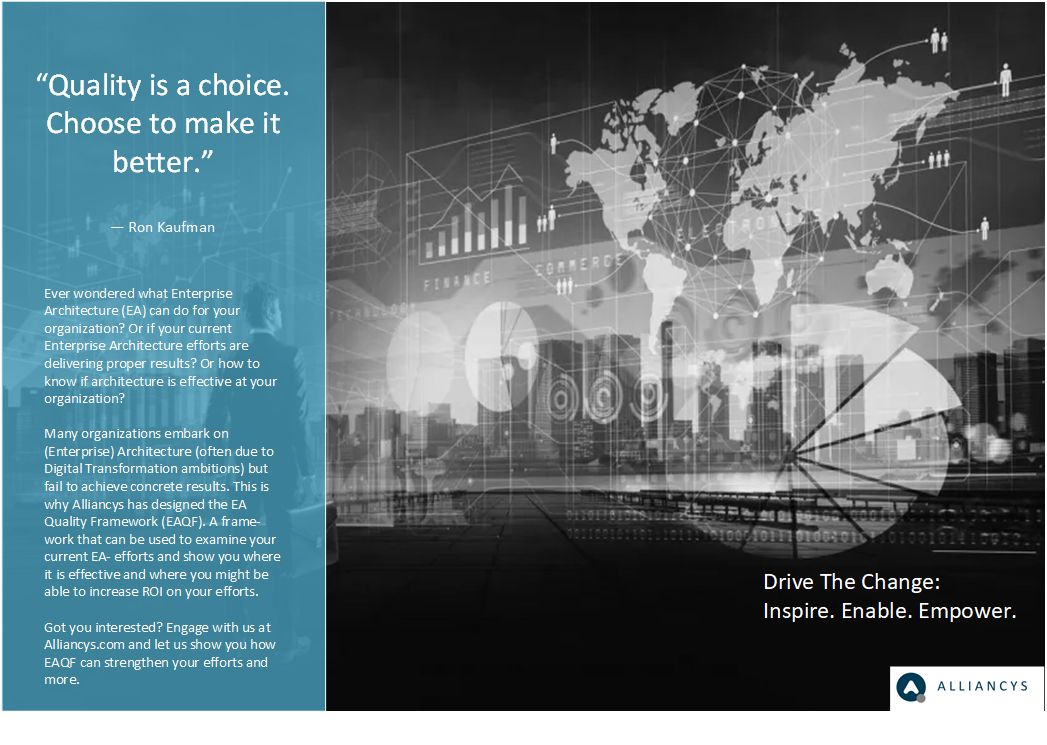 "Quality is a choice. Choose to make it better."
– Ron Kaufman –
Ever wondered what Enterprise Architecture (EA) can do for your organization? Or if your current Enterprise Architecture efforts are delivering proper results? Or how to know if architecture is effective at your organization?
Many organizations embark on (Enterprise) Architecture (often due to Digital Transformation ambitions) but fail to achieve concrete results. This is why Alliancys has designed the EA Quality Framework (EAQF). A frame-work that can be used to examine your current EA- efforts and show you where it is effective and where you might be able to increase ROI on your efforts.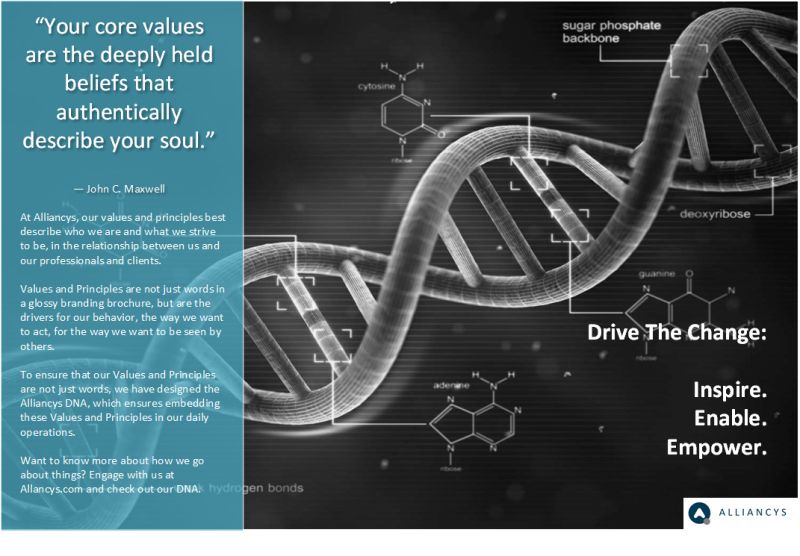 "Your core values are the deeply held beliefs that authentically describe your soul."
– John C. Maxwell –

At Alliancys, our values and principles best describe who we are and what we strive to be, in the relationship between us and our professionals and clients. Values and Principles are not just words in a glossy branding brochure, but are the drivers for our behavior, the way we want to act, for the way we want to be seen by others.
To ensure that our Values and Principles are not just words, we have designed the Alliancys DNA, which ensures embedding these Values and Principles in our daily operations.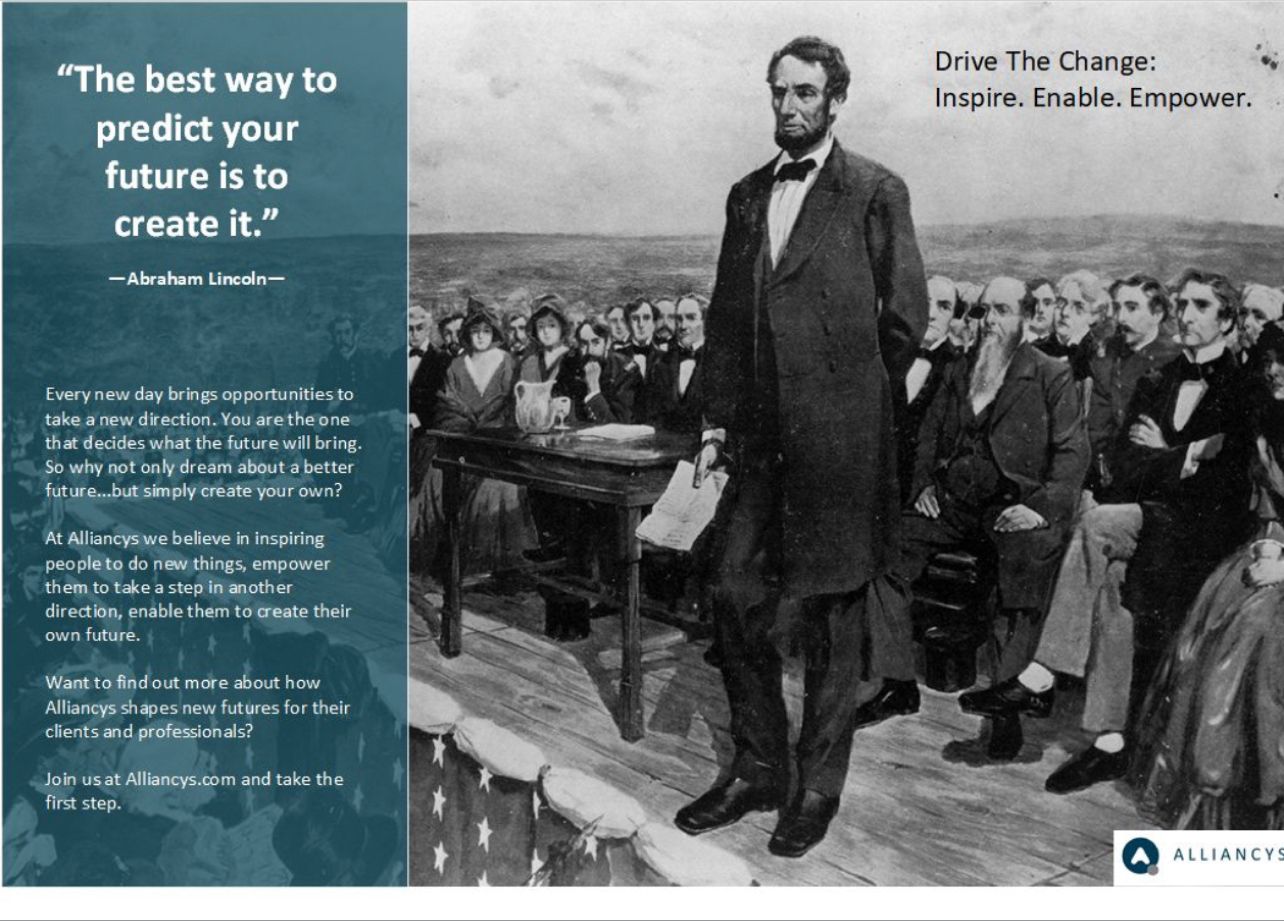 "The best way to predict your future is to create it."
– Abraham Lincoln-
Every new day brings opportunities to take a new direction. You are the one that decides what the future will bring. So why not only dream about a better future…but simply create your own?
At Alliancys we believe in inspiring people to do new things, empowering them to take a step in another direction, enable them to create their own future. Want to find out more about how Alliancys shapes new futures for their clients and professionals?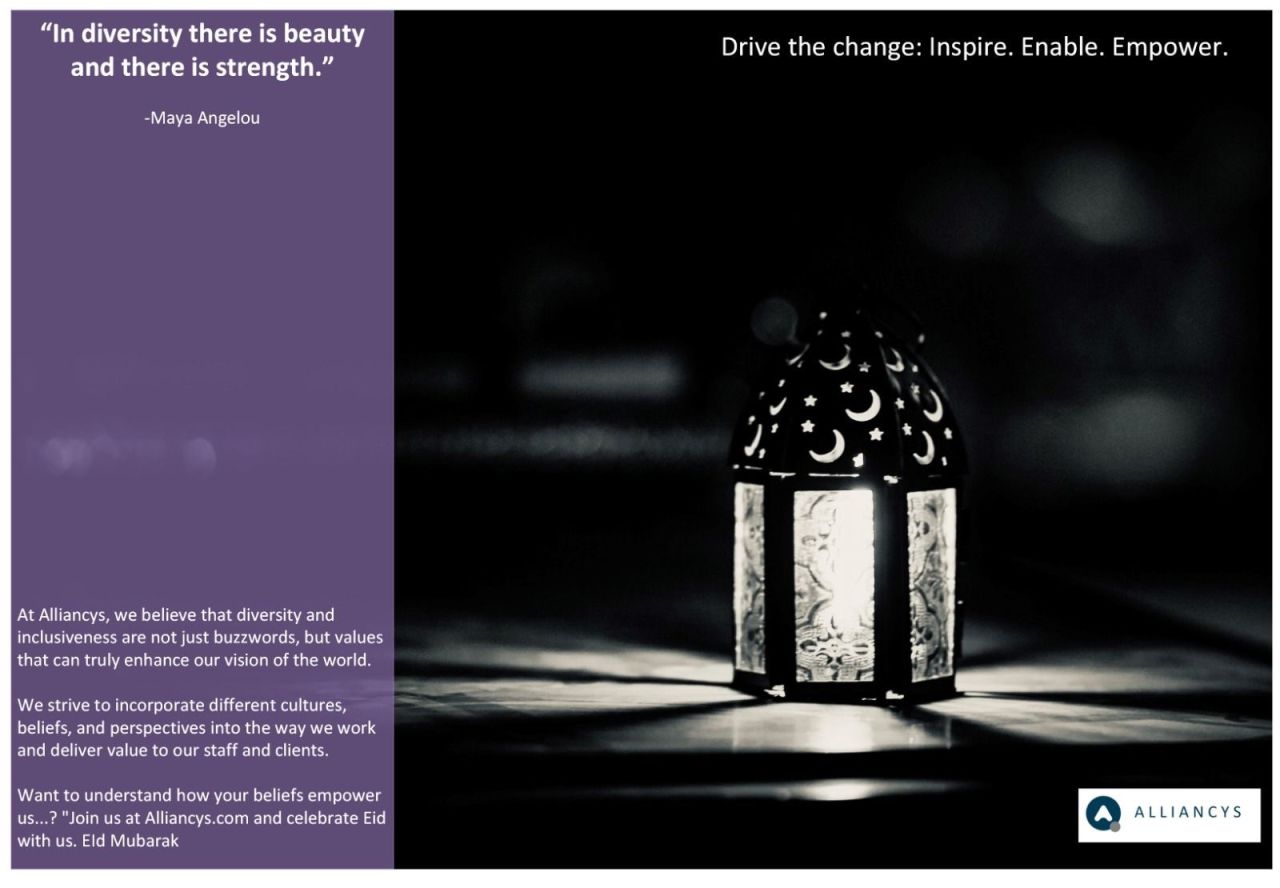 "In diversity there is beauty and there is strength."
– Maya Angelou –
At Alliancys, we believe that diversity and inclusiveness are not just buzzwords, but values that can truly enhance our vision of the world.
We strive to incorporate different cultures, beliefs, and perspectives into the way we work and deliver value to our staff and clients. "
There is a creative solution to every problem. Every possibility holds the promise of abundance

.

"
–
Deepak Chopra

–
Introducing Alliancys: Revolutionize problem-solving with our cutting-edge ESF (Enterprise Solution Framework). Solve complex problems with a holistic approach, designed to identify crucial components and their interrelationships. Trust our 20 years of proven success in delivering transformative solutions, because when it comes to problem-solving, designing and planning are paramount.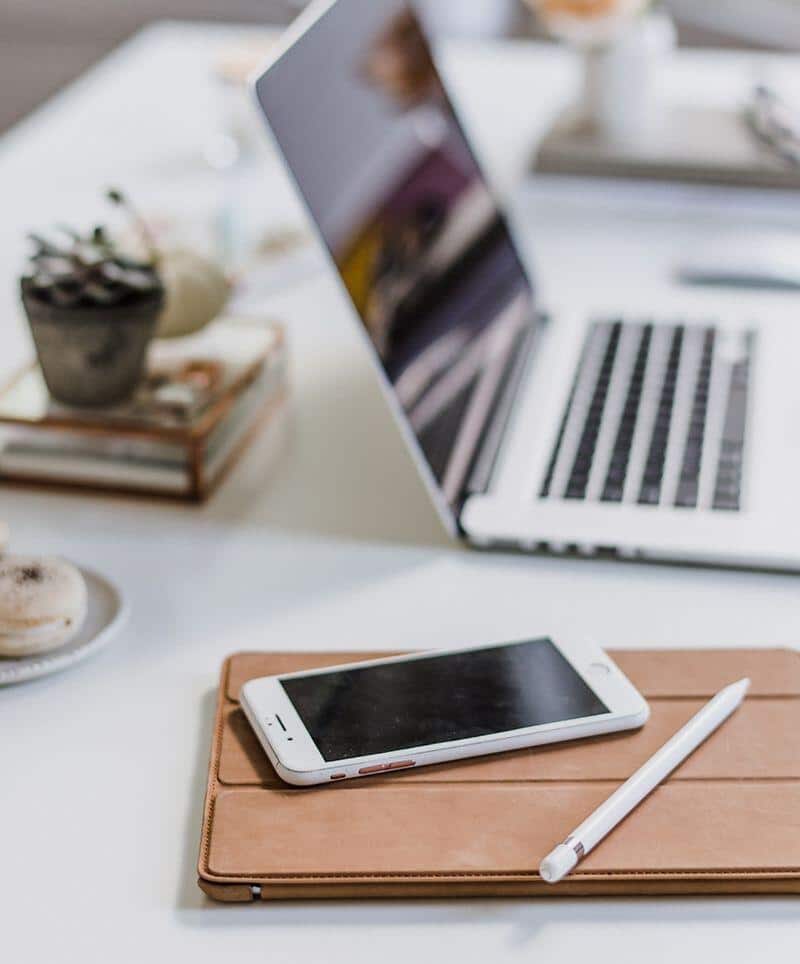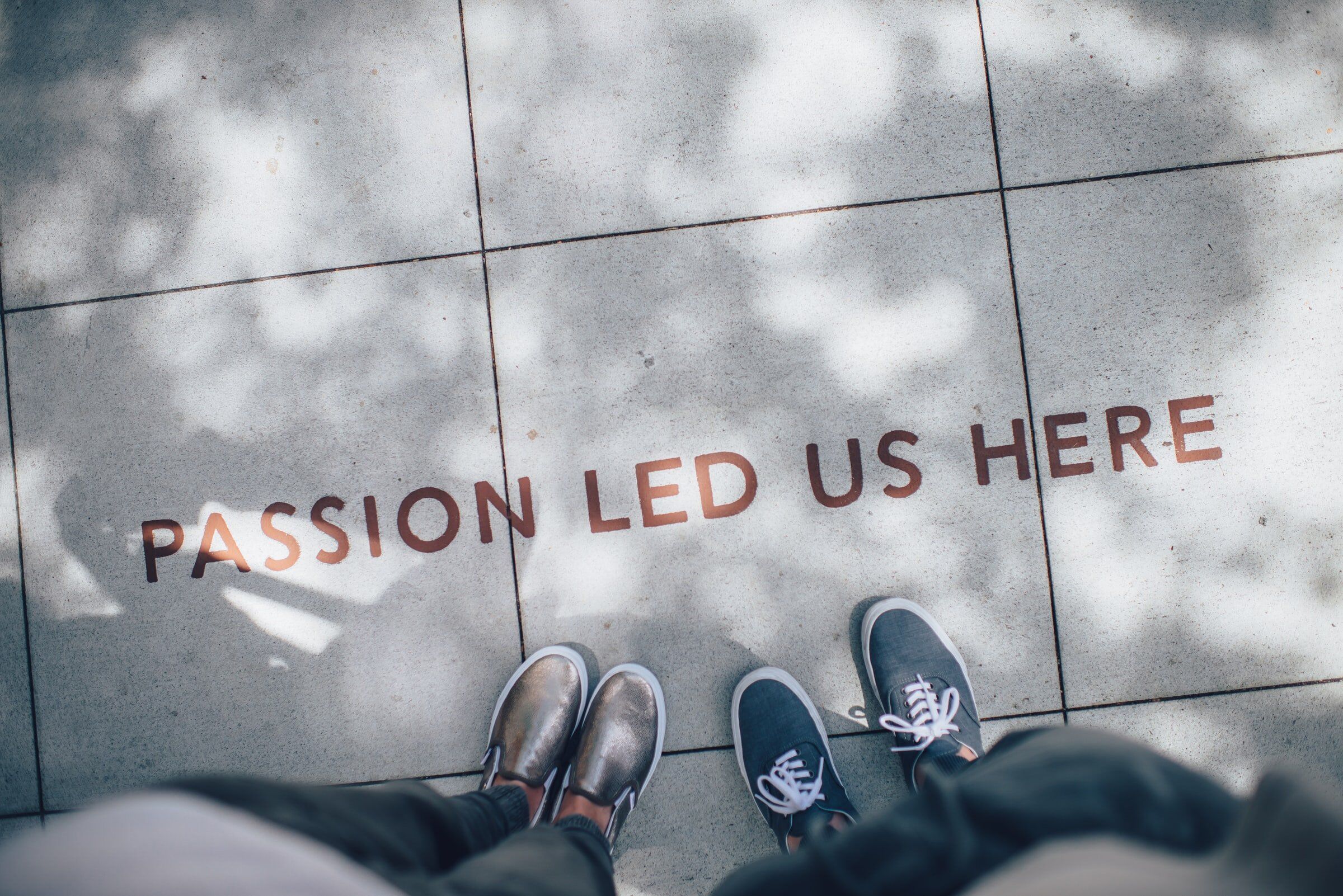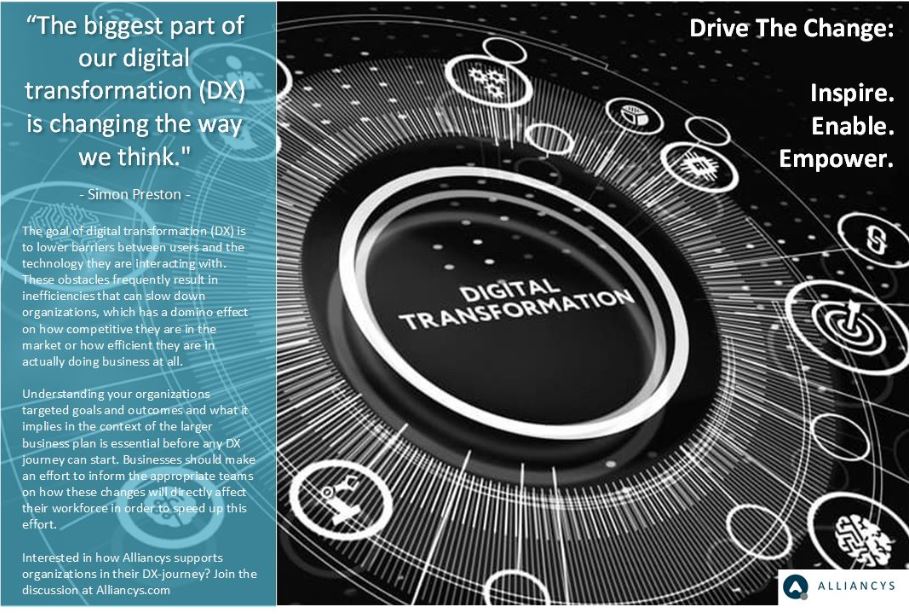 "The biggest part of our digital transformation is changing the way we think."
– Simon Preston –

The goal of digital transformation (DX) is to lower barriers between users and the technology they are interacting with. These obstacles frequently result in inefficiencies that can slow down organizations, which has a domino effect on how competitive they are in the market or how efficient they are in actually doing business at all.
Understanding your organizations targeted goals and outcomes and what it implies in the context of the larger business plan is essential before any DX journey can start. Everyone in the organization, across levels and lines of business, will be able to understand their role in moving the organization forward if there is complete alignment on what the organization intends to achieve through digital transformation. Businesses should make an effort to inform the appropriate teams on how these changes will directly affect their workforce in order to speed up this effort.
Interested in how Alliancys supports organizations in their DX-journey?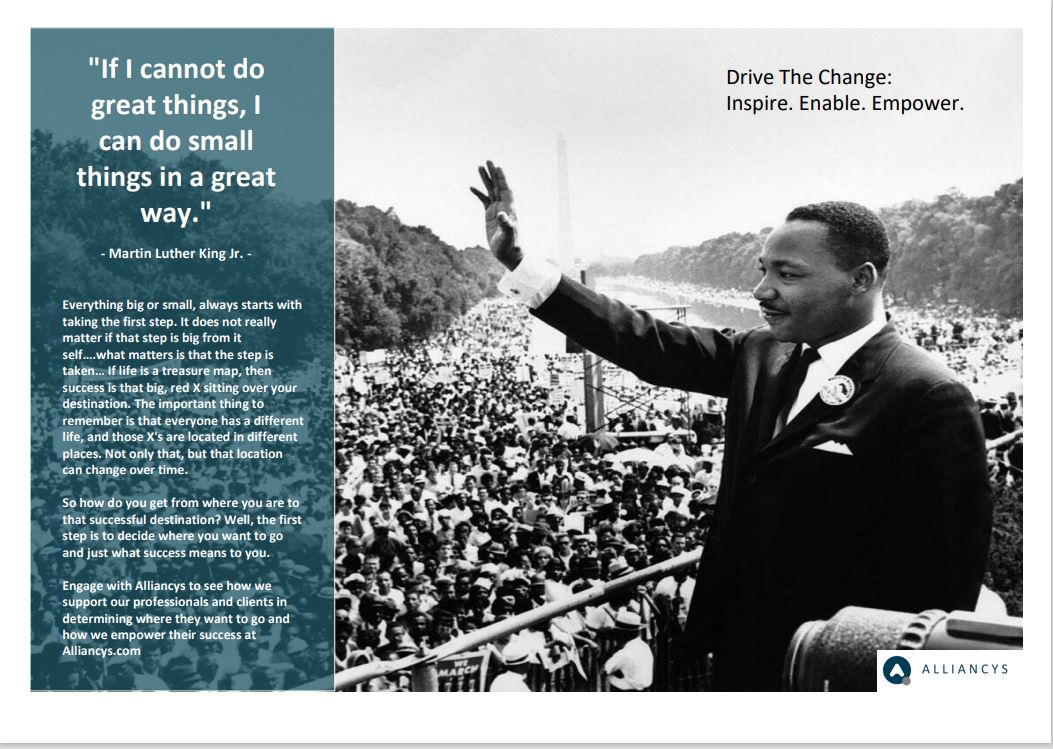 "If I cannot do great things, I can do small things in a great way."
– Martin Luther King Jr.-
Everything big or small, always starts with taking the first step. It does not really matter if that step is big from it self….what matters is that the step is taken… If life is a treasure map, then success is that big, red X sitting over your destination. The important thing to remember is that everyone has a different life, and those X's are located in different places. Not only that, but that location can change over time.
So how do you get from where you are to that successful destination? Well, the first step is to decide where you want to go and just what success means to you. Engage with Alliancys to see how we support our professionals and clients in determining where they want to go and how we empower their success.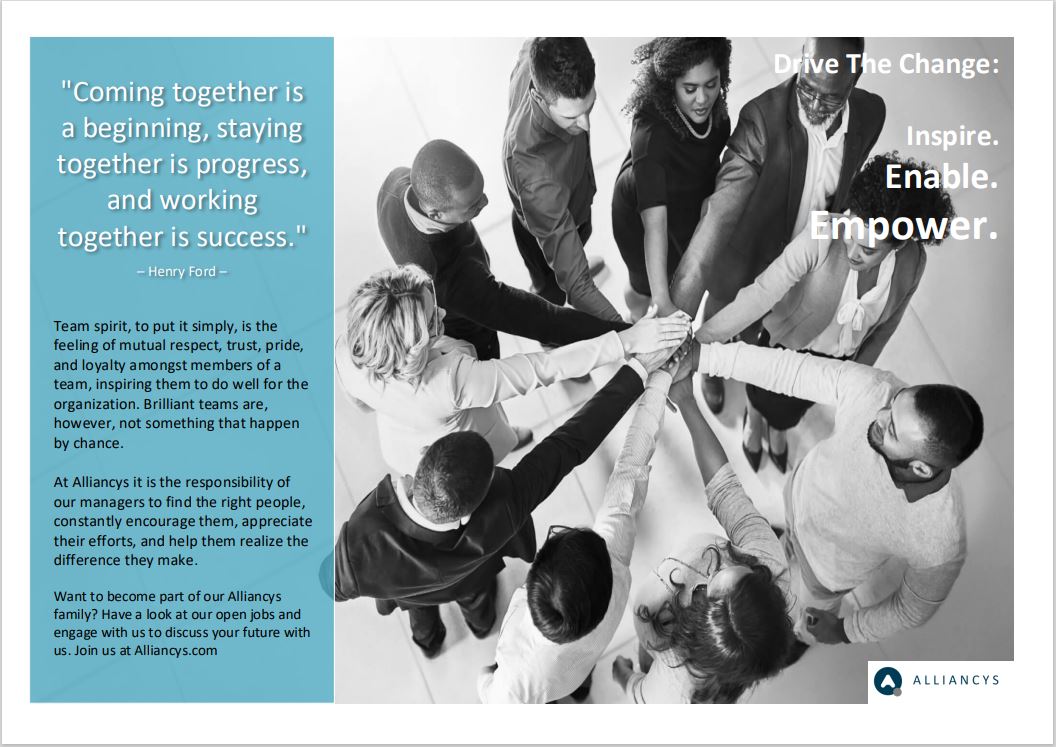 "Coming together is a beginning, staying together is progress, and working together is success."
– Henry Ford –
Team spirit, to put it simply, is the feeling of mutual respect, trust, pride, and loyalty amongst members of a team, inspiring them to do well for the organization. Brilliant teams are, however, not something that happens by chance. It is the responsibility of managers to find the right people, constantly encourage them, appreciate their efforts, and help them realize the difference they make.
At Alliancys it is the responsibility of our managers to find the right people, constantly encourage them, appreciate their efforts, and help them realize the difference they make. Want to become part of our Alliancys family? Have a look at our open jobs and engage with us to discuss your future with us.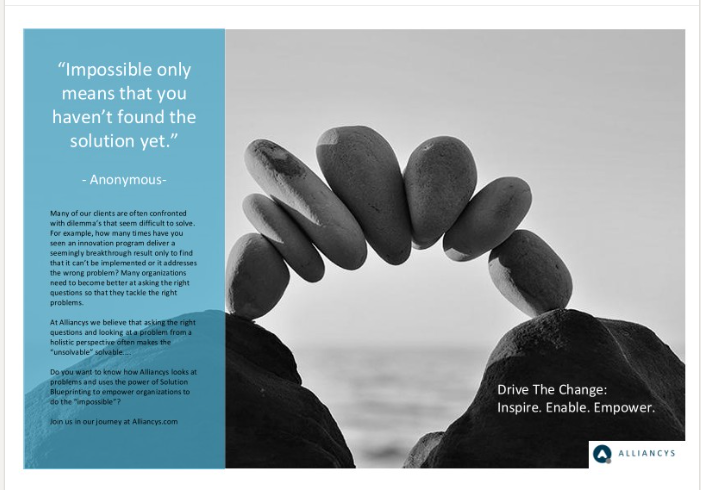 The power of Solution blueprinting
"Impossible only means that you haven't found the solution yet."
– Anonymous-
Many of our clients are often confronted with dilemmas that seem difficult to solve. For example, how many times have you seen an innovation program deliver a seemingly breakthrough result only to find that it can't be implemented or it addresses the wrong problem?
Many organizations need to become better at asking the right questions so that they tackle the right problems. At Alliancys we believe that asking the right questions and looking at a problem from a holistic perspective often makes the "unsolvable" solvable….
Do you want to know how Alliancys looks at problems and uses the power of Solution Blueprinting to empower organizations to do the "impossible"? 
The first step towards getting somewhere is to decide you're not going to stay where you are."

— JP Morgan —
Easter is a time of new beginnings and fresh starts. At Alliancys we believe in the power of new beginnings and starting fresh with a clear plan and direction.
Our team is here to provide tailored solutions to your specific needs, working with you every step of the way to ensure your project is executed flawlessly. With years of experience and a proven track record of success, we're confident that we can help you achieve your goals.
So why not take the first step towards a brighter future this Easter season? Contact us today to schedule a consultation and let us help you turn your failed projects into triumphs.
#Easter #NewBeginnings #ProjectManagement #SuccessStories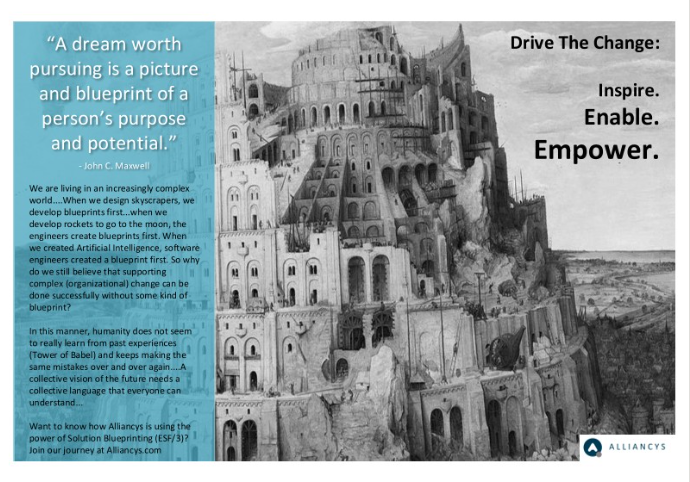 "A dream worth pursuing is a picture and blueprint of a person's purpose and potential."
– John C. Maxwell –
We are living in an increasingly complex world….When we design skyscrapers, we develop blueprints first…when we develop rockets to go to the moon, the engineers create blueprints first. When we created Artificial Intelligence, software engineers created a blueprint first. So why do we still believe that supporting complex (organizational) change can be done successfully without some kind of blueprint?
In this manner, humanity does not seem to really learn from past experiences (Tower of Babel) and keeps making the same mistakes over and over again….A collective vision of the future needs a collective language that everyone can understand… Want to know how Alliancys is using the power of Solution Blueprinting (ESF/3)?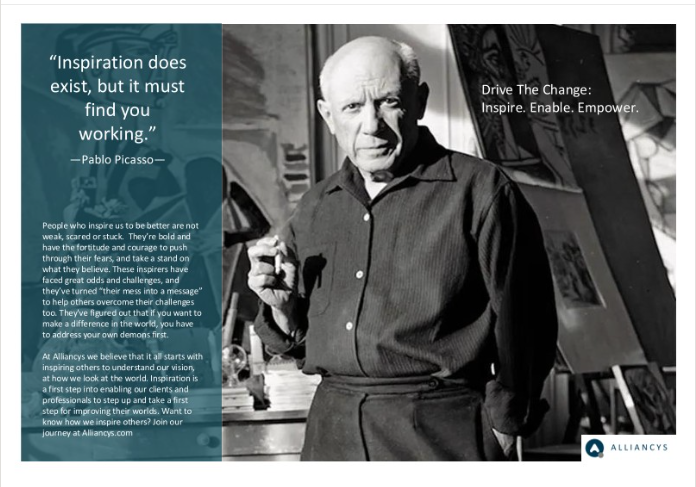 "Inspiration does exist, but it must find you working."
—Pablo Picasso—
People who inspire us to be better are not weak, scared or stuck. They're bold and have the fortitude and courage to push through their fears, and take a stand on what they believe. These inspirers have faced great odds and challenges, and they've turned "their mess into a message" to help others overcome their challenges too. They've figured out that if you want to make a difference in the world, you have to address your own demons first.
At Alliancys we believe that it all starts with inspiring others to understand our vision, at how we look at the world. Inspiration is a first step into enabling our clients and professionals to step up and take a first step for improving their worlds. Want to know how we inspire others?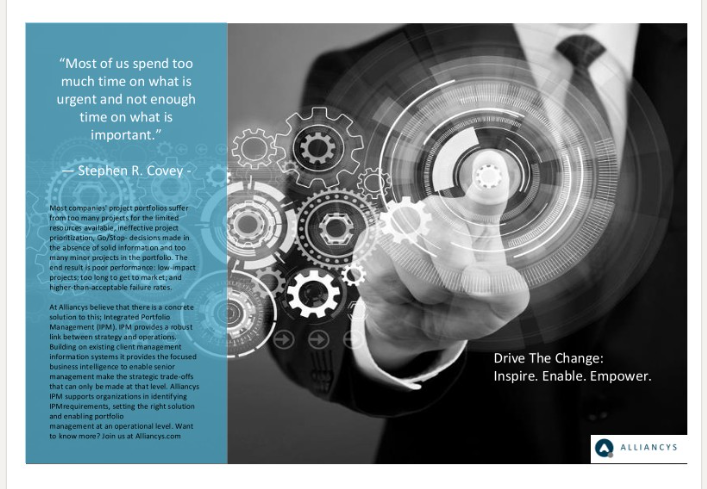 Integrated Portfolio
Management
"Most of us spend too much time on what is urgent and not enough time on what is important."
― Stephen R. Covey ―

Most companies' project portfolios suffer from too many projects for the limited resources available, ineffective project prioritization, Go/Stop- decisions made without solid information and too many minor projects in the portfolio. The end result is poor performance: low-impact projects; too long to get to market; and higher-than-acceptable failure rates.
At Alliancys believe that there is a concrete solution to this; 360° Series Integrated Portfolio Management (IPM). IPM provides a robust link between strategy and operations. Building on existing client management information systems it provides the focused business intelligence to enable senior management to make the strategic trade-offs that can only be made at that level. Alliancys IPM supports organizations in identifying IPM-requirements, setting the right solution and enabling portfolio management at an operational level.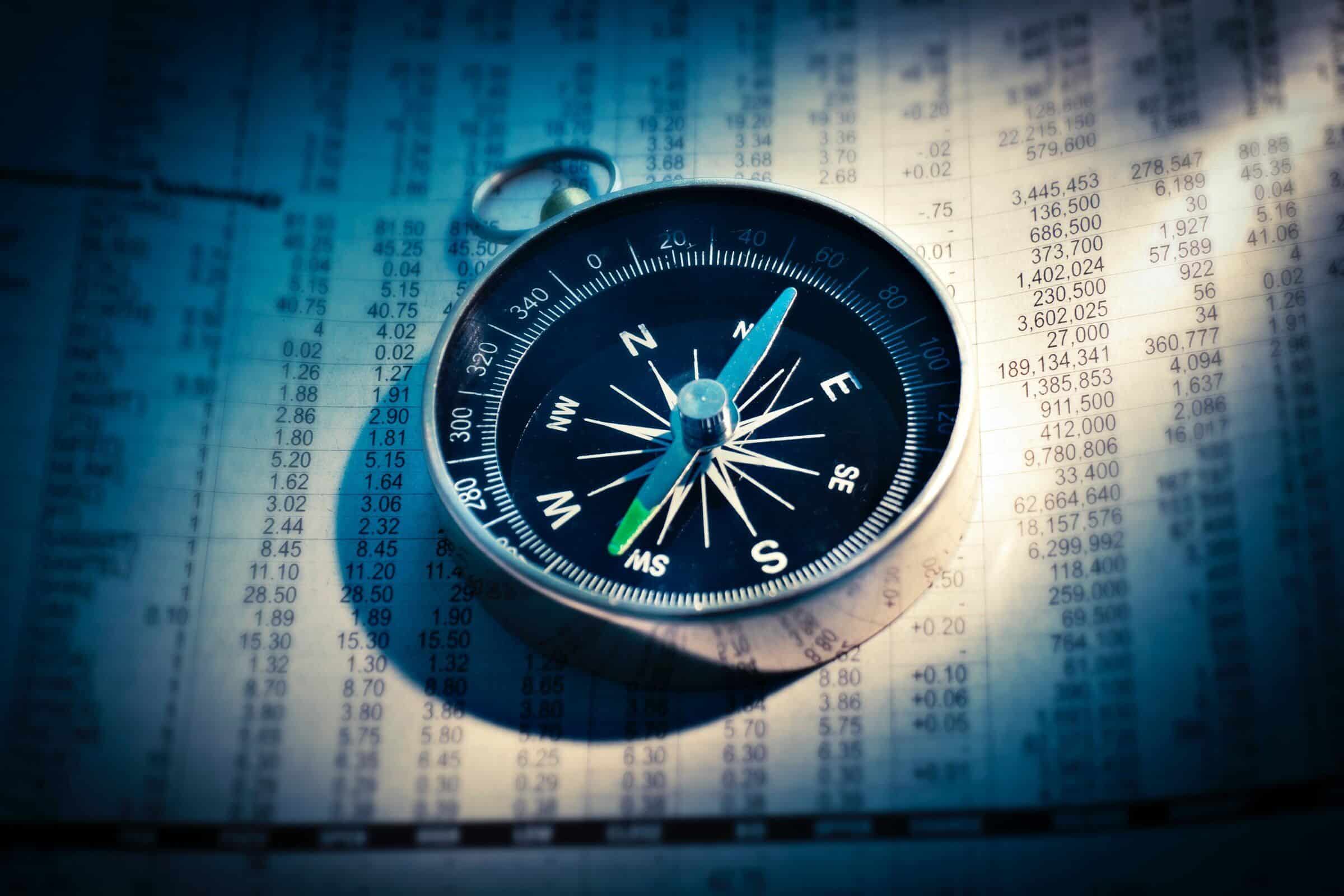 Vision and accountable strategies
"Leadership is the capacity to translate vision into reality."
– Warren Bennis –

A well-defined vision becomes the basis for all business strategies and decisions, large and small. Without vision, your business can't develop a coherent strategy that leads toward the desired result. Executives can't weigh short-term plans against long-term goals. Ultimately, decisions should be made by asking, "Does this move us closer toward our vision?" Yet, many businesses "wing it" with vague visions, and cost/benefit analyses for isolated decisions, and they often fail as a result. Signals of a lack of vision are present long before eventual failure.
Want to know how we define visions and translate them into actionable strategies? "I can't change the direction of the wind, but I can adjust my sails to always reach my destination."
-Jimmy Dean-
Business Solutions Blueprints
Many organizations face complex challenges. We capture the needed changes as part of so-called Solution Blueprints, which can then be used to define a change strategy and plan.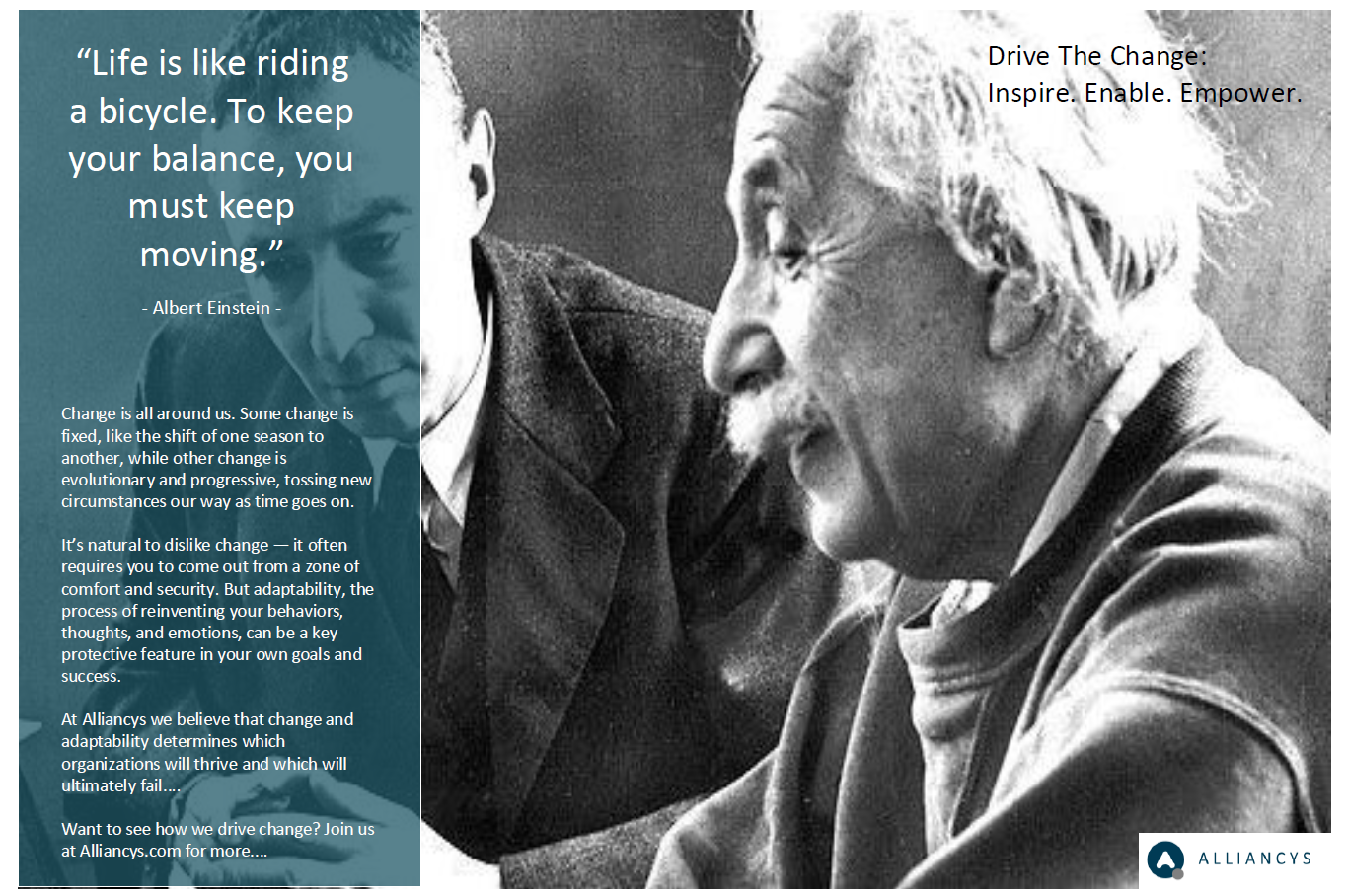 "Life is like riding a bicycle. To keep your balance, you must keep moving."
– Albert Einstein –
Change is all around us. Some change is fixed, like the shift of one season to another, while another change is evolutionary and progressive, tossing new circumstances our way as time goes on.
It's natural to dislike change — it often requires you to come out from a zone of comfort and security. But adaptability, the process of reinventing your behaviors, thoughts, and emotions, can be a key protective feature in your own goals and success. At Alliancys we believe that change and adaptability determines which organizations will thrive and which will ultimately fail….Want to see how we drive change?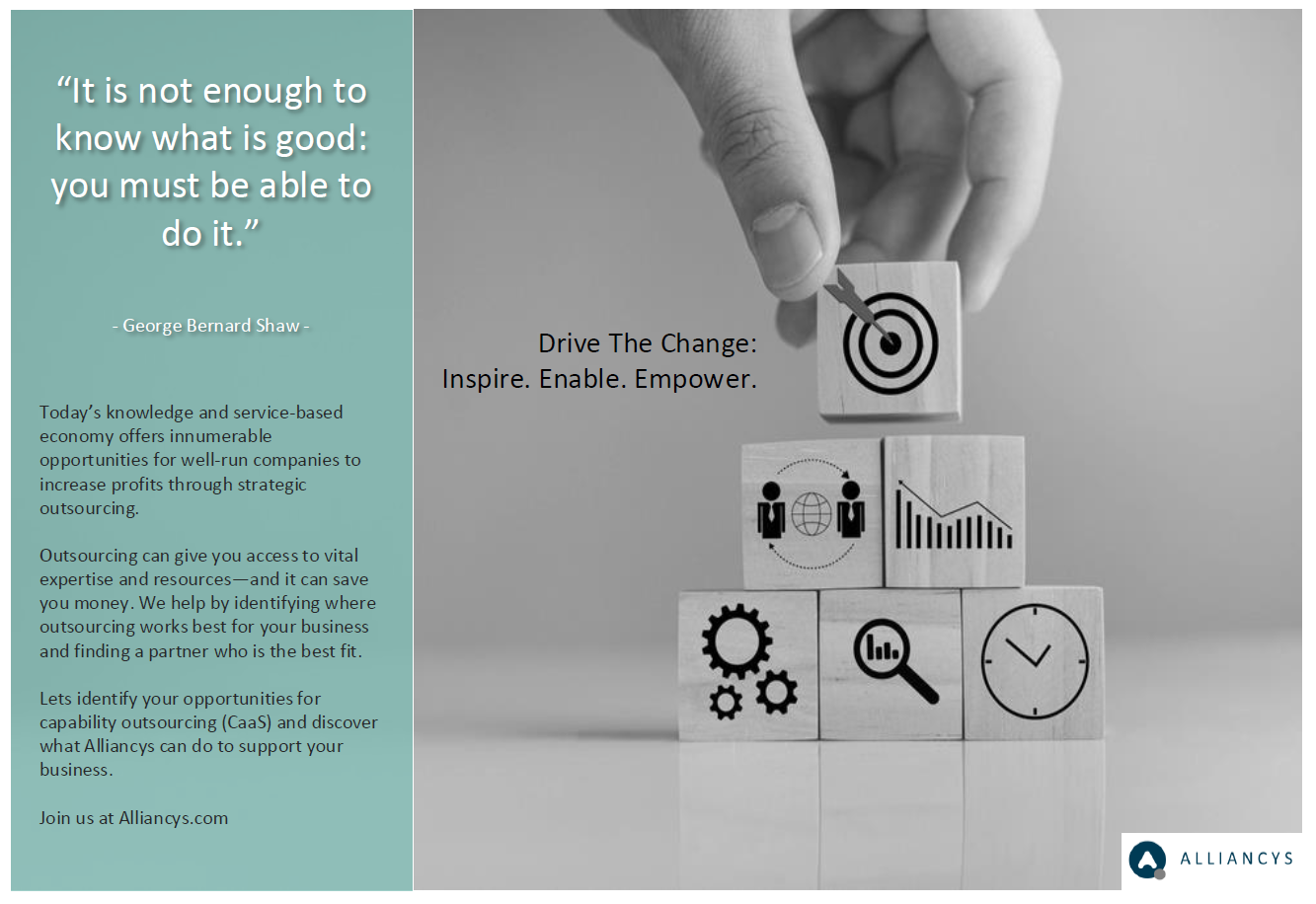 "It is not enough to know what is good: you must be able to do it."
– George Bernard Shaw –
Today's knowledge and service-based economy offer innumerable opportunities for well-run companies to increase profits through strategic outsourcing.
Outsourcing can give you access to vital expertise and resources and save you money. We help by identifying where outsourcing works best for your business and finding a partner who is the best fit. Let's identify your opportunities for capability outsourcing (CaaS) and discover what Alliancys can do to support your business. 
#business #capabilityasaservice #caas #opportunities #support #business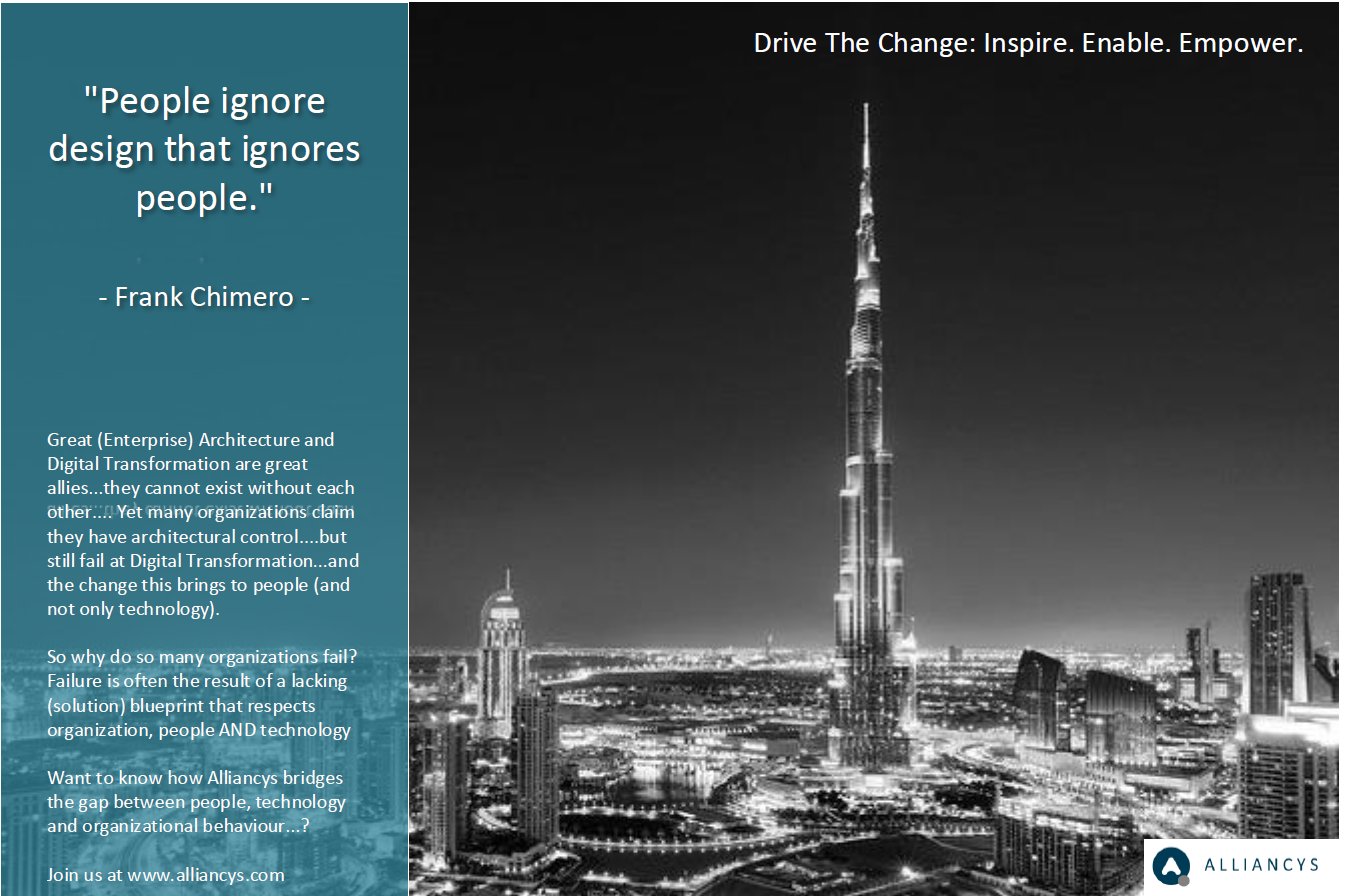 Business Ethics: Right or Wrong?
"Six essential qualities that are the key to success: Sincerity, personal integrity, humility, courtesy, wisdom, charity."
– Dr. William Menninger –
Sometimes you will find yourself in a situation where you need to decide to choose for what's right or what's wrong. These decisions are often because your manager or client wants you do to something that might conflict with your inner values….Something that you do not stand for but are forced to consider (mostly because of the gains of others).
At Alliancys we experience these conflicts on a regular basis…do we consider profit or do we do what we stand for? Thats why we have created our DNA to guide our professionals in these kind of situations…. Why not get inspired and have a look at our DNA?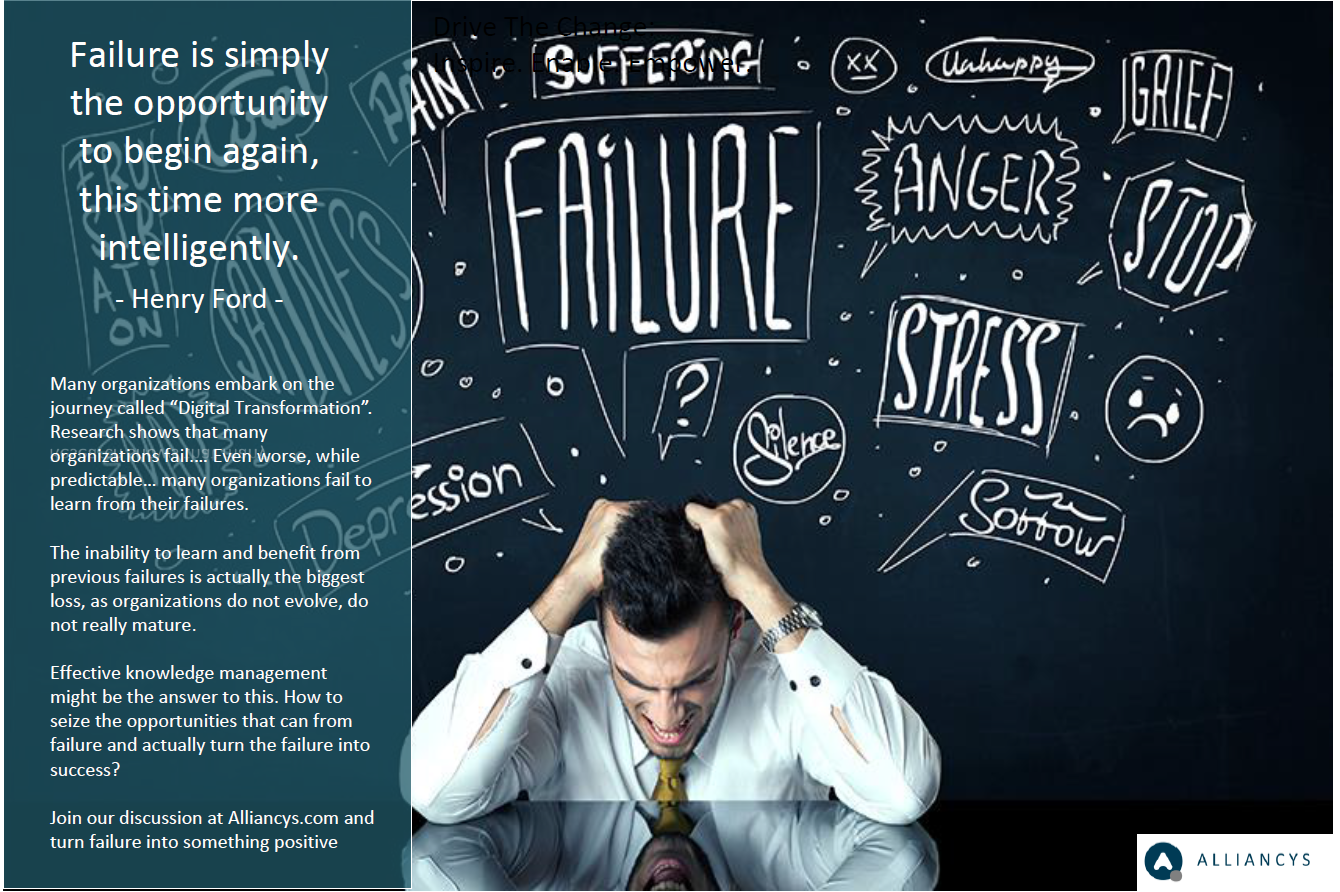 Effective Knowledge Management
– How to benefit from failure –
"Failure is simply the opportunity to begin again, this time more intelligently.
– Henry Ford –
Many organizations embark on the journey called "Digital Transformation". Research shows that many organizations fail.… Even worse, while predictable… many organizations fail to learn from their failures. The inability to learn and benefit from previous failures is actually the biggest loss, as organizations do not evolve, do not really mature. Effective knowledge management might be the answer to this. How to seize the opportunities that can from failure and actually turn the failure into success?
Turn failure into something positive.
#digitaletransformatie #DigitalTransformation #roadmap #success #management #opportunities #opportunity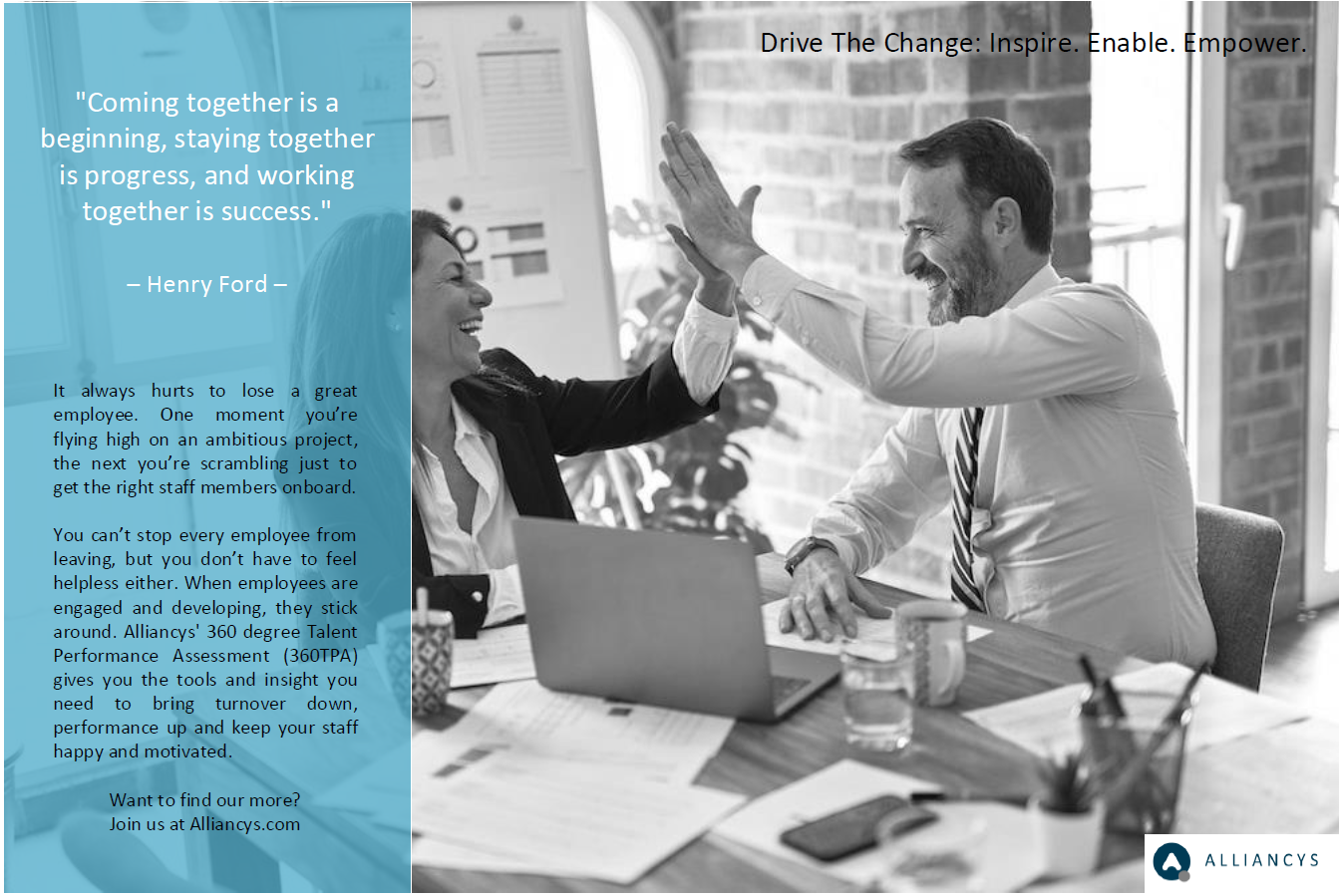 "The greatest asset of a company is its people."
It always hurts to lose a great employee. One moment you're flying high on an ambitious project, the next you're scrambling just to get the right staff members onboard. You can't stop every employee from leaving, but you don't have to feel helpless either. When employees are engaged and developing, they stick around.
Alliancys' 360 degree Talent Performance Assessment (360TPA) gives you the tools and insight you need to bring turnover down, performance up and keep your staff happy and motivated. Want to find our more?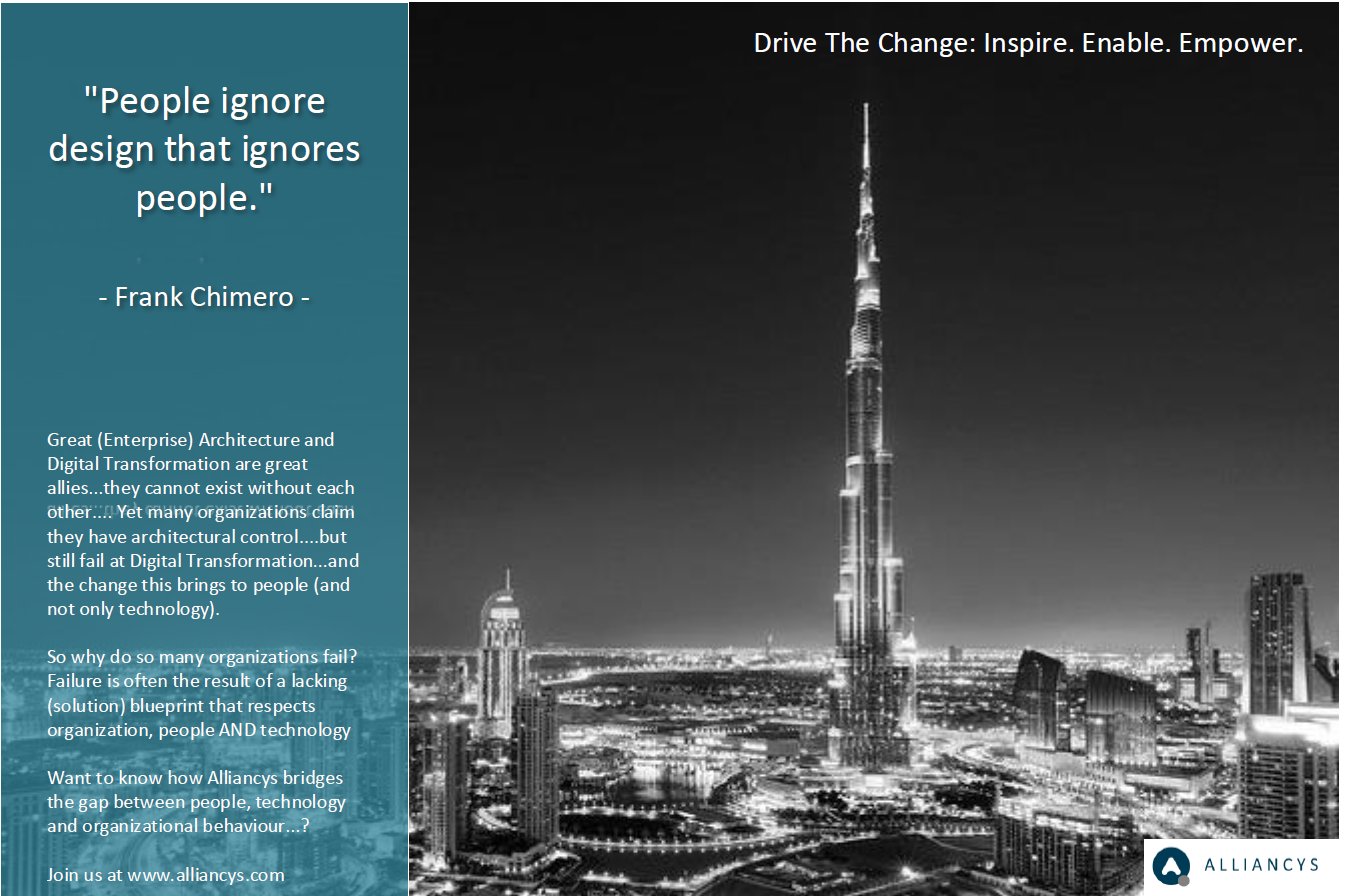 Digital transformation success
"People ignore design that ignores people."
– Frank Chimero –
Great (Enterprise) Architecture and Digital Transformation are great allies…they cannot exist without each other…. Yet many organizations claim they have architectural control….but still fail at Digital Transformation…and the change this brings to people (and not only technology). So why do so many organizations fail?
Failure is often the result of a lacking (solution) blueprint that respects organization, people AND technology Want to know how Alliancys bridges the gap between people, technology and organizational behaviour…?
#digitaltransformation #architecture #change #success #technology #people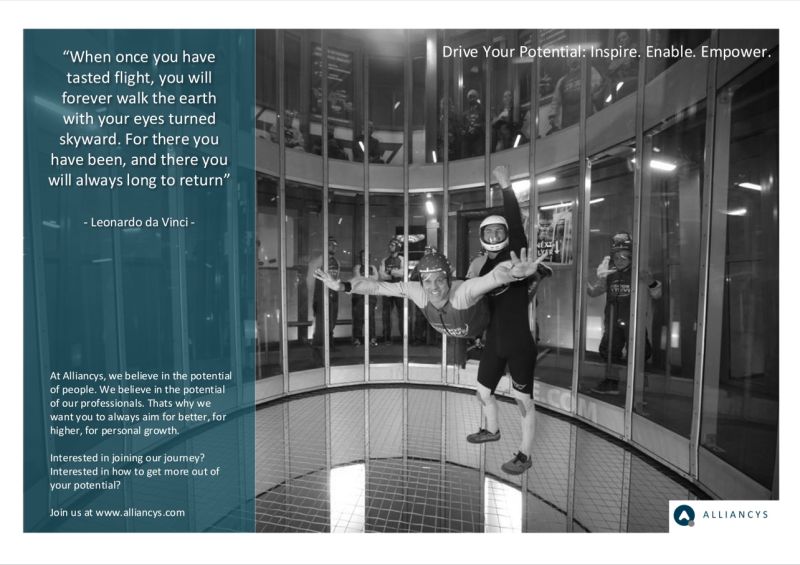 "When once you have tasted flight, you will forever walk the earth with your eyes turned skyward. For there you have been, and there you will always long to return"
– Leonardo da Vinci –
At Alliancys, we believe in the potential of people. We believe in the potential of our professionals. Thats why we want you to always aim for better, for higher, for personal growth.
Interested in joining our journey?
Interested in how to get more out of your potential?
#EmpowerYourPotential #alliancys  #careers #personaldevelopment
Drive your potential: Inspire, Enable, empower
Waarom zijn projecten moeilijk?(NL)
"Success is not final; failure is not fatal: it is the courage to continue that counts."

– Winston Churchill –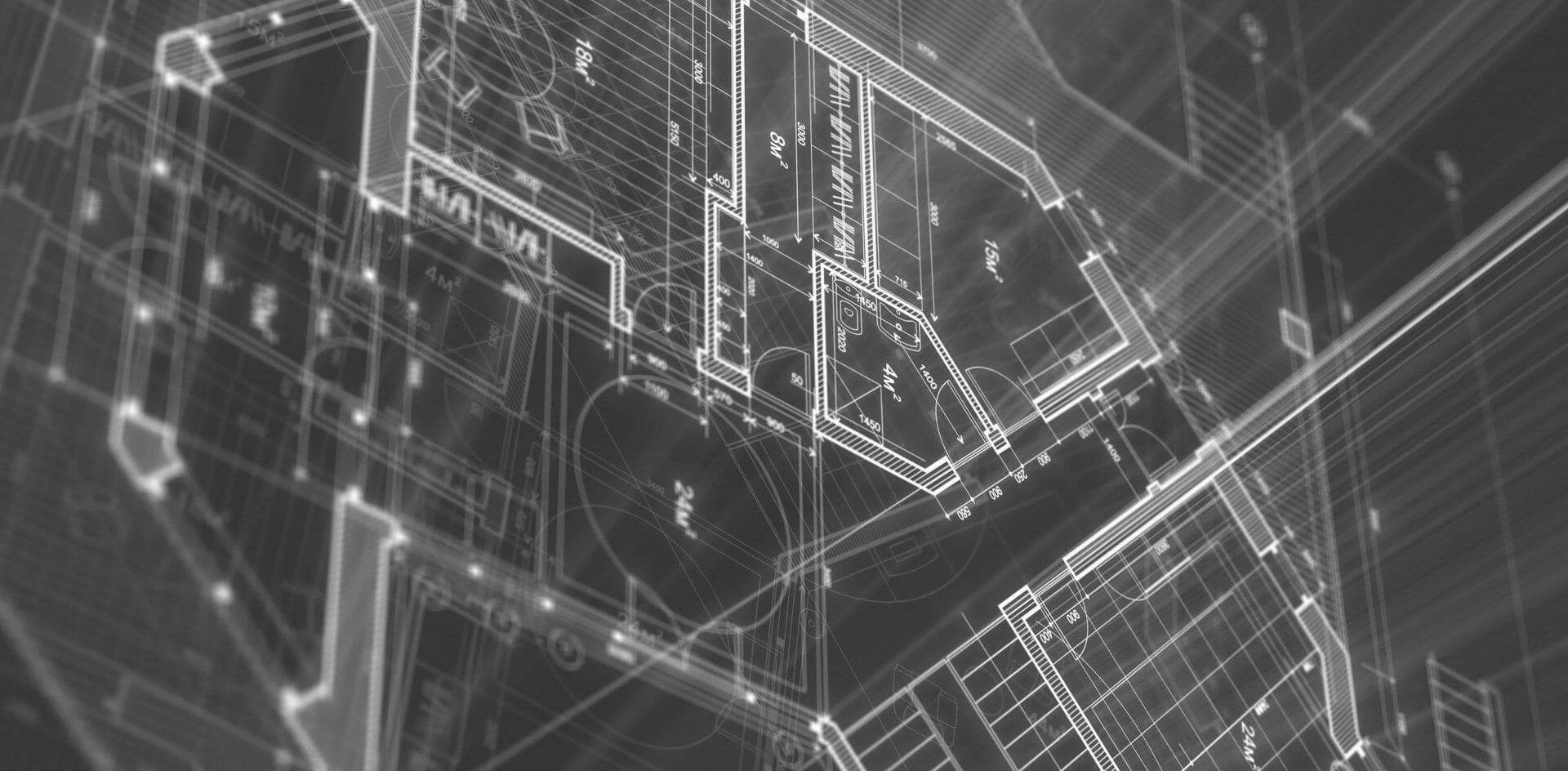 Digital transformation is the combination of technology and creativity. Finding and realizing a solution for every digital issue. Let help you to define your digital roadmap "Hold the vision, trust the process."
As consultancy type organization ourselves, we take pride in the way we share knowledge between our professionals and processes and embed knowledge management in our core processes.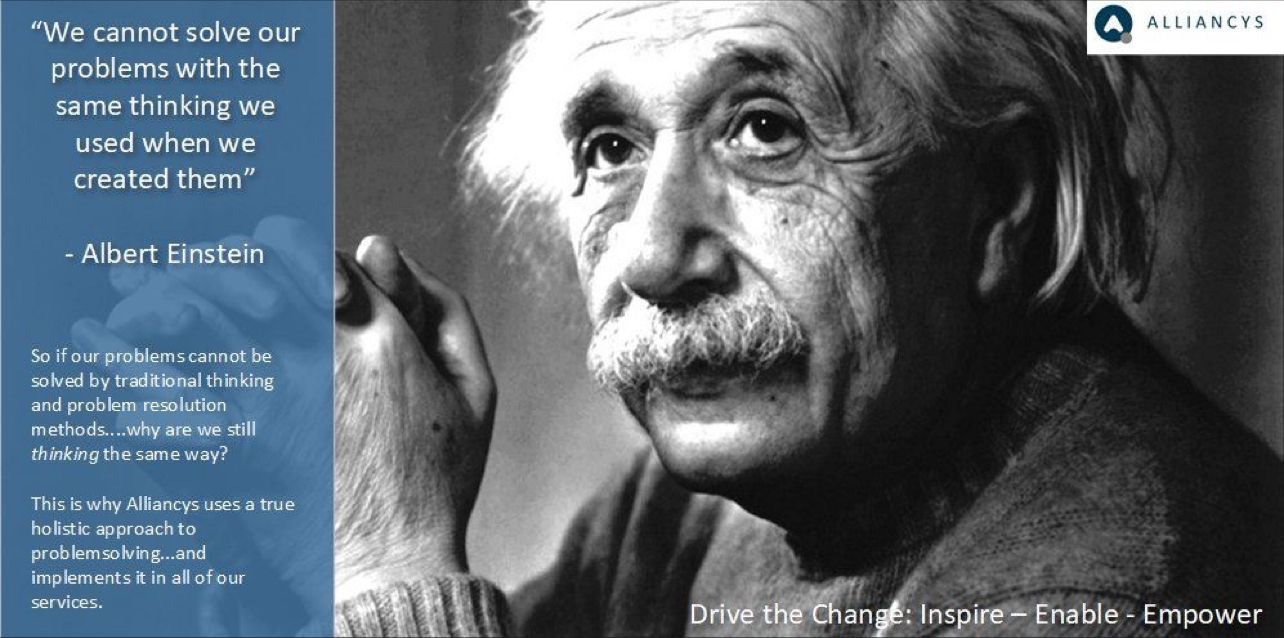 "We cannot solve our problems with the same thinking we used when we create them"
– Albert Einstein –
So if our problems cannot be solved by traditional thinking and problem resolution methods……
Why are we still thinking the same way?
This is why we, at Alliancys, are using a true holistic approach to problem solving and we implement it in all our services.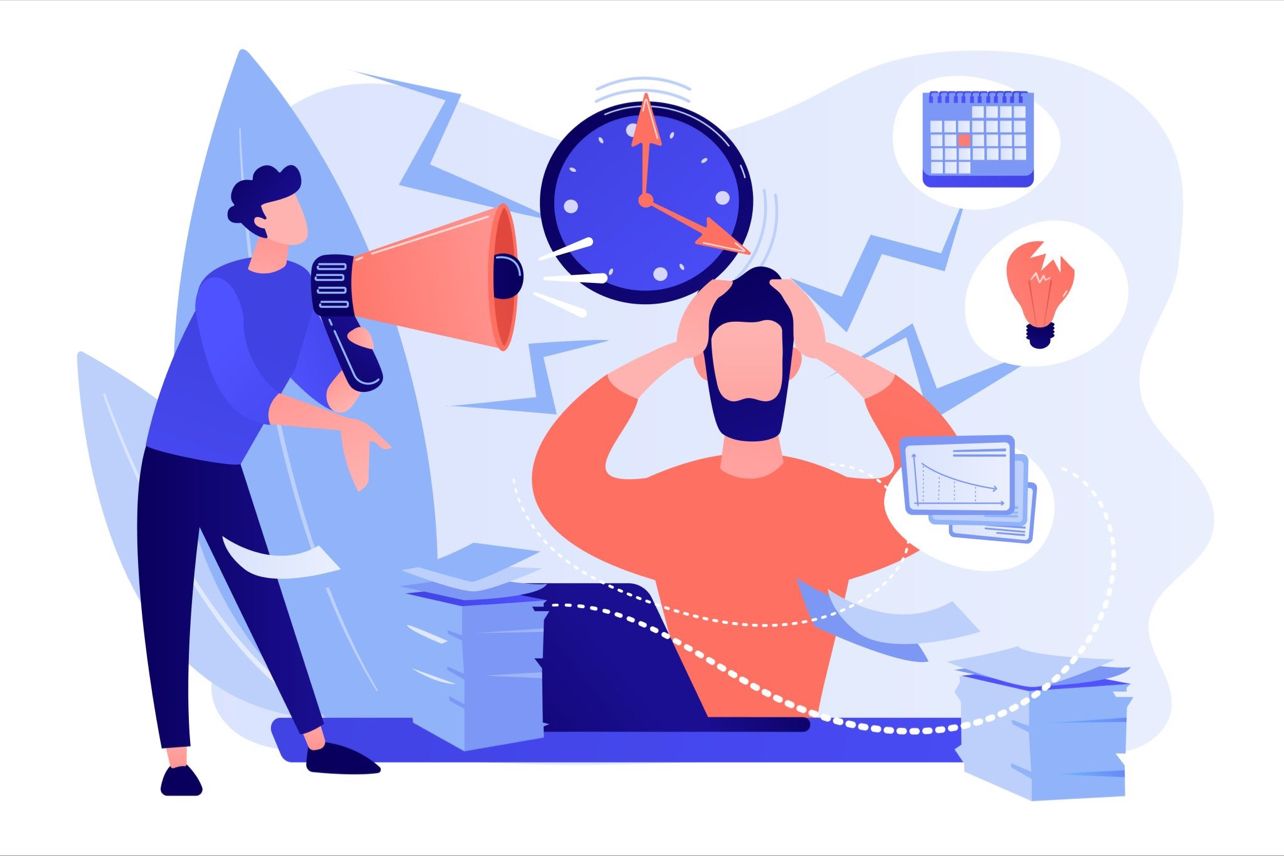 If you find you are saying yes to all work, how do you figure out what to take on first?
Developing your prioritization process will ensure that you're focused on the most valuable work that drives your organization's strategic goals.
Why do we create blueprints for houses and aeroplanes….but not for complex organizational change?' Learn more about why Alliancys creates them and how they can work for your organization…..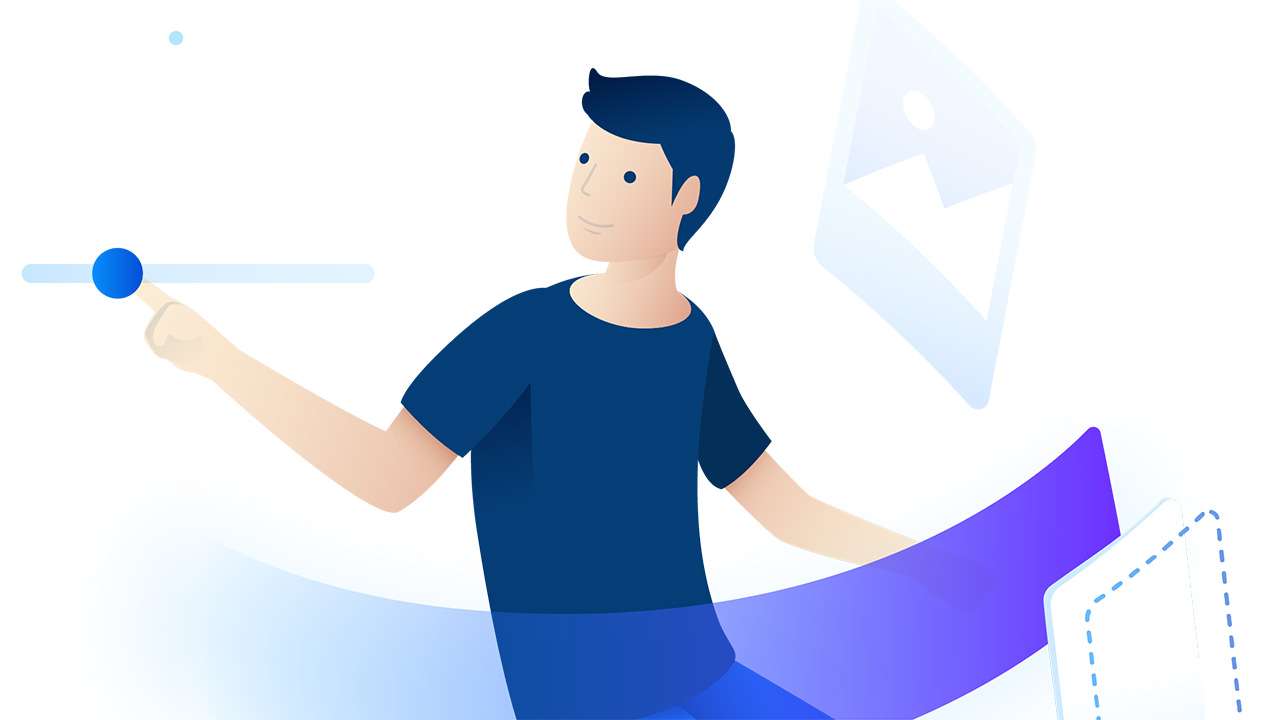 A Solution Blueprint is the bridge that transforms your desire for improved business processes as a roadmap for success. It requires the organization to take a closer look at the obstacles and opportunities the technology presents not only to IT, but the entire business.
Like a blueprint for a building, a schematic for a piece of machinery or a map for a road trip, an Solution blueprint provides necessary direction for organizations looking to overhaul or enhance their existing IT environments and processes. The blueprint is also the first place where IT and business processes meet.
Are you looking for a partner to help you define your solution blueprints? Let us help you to define your roadmap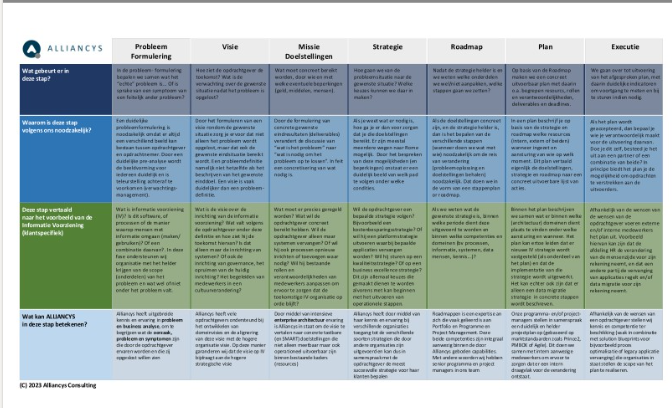 Als consultancy organisatie worden wij vaak benaderd voor het oplossen van complexe vraagstukken. Binnen ALLIANCYS volgen wij in principe altijd een standaard aanpak om (samen met de opdrachtgever) een scherp beeld te krijgen van de probleem stelling. "Logisch!", zou je denken…Toch is dit niet altijd het geval.
Het onderscheid tussen probleem, vise en strategie is echter zeer relevant. Bij de oplossing van het probleem of de symptomen ervan, is de kans groot dat je niet echt een duurzame oplossing implementeert, terwijl bij de aanpak van de oorzaak (root cause) we er (samen) voor zorgen dat niet alleen de gewenste doelstellingen (visie) worden behaald maar er ook een garantie is voor een duurzaam resultaat (en dus niet een resultaat dat slechts een deel van het werkelijke probleem aanpakt….) Uiteindelijk bepaalt de opdrachtgever de scope, maar de oplossingsstrategie is dus zeer relevant.
#Inspire #Enable #Empower #Visioning #Solutioning #Architecture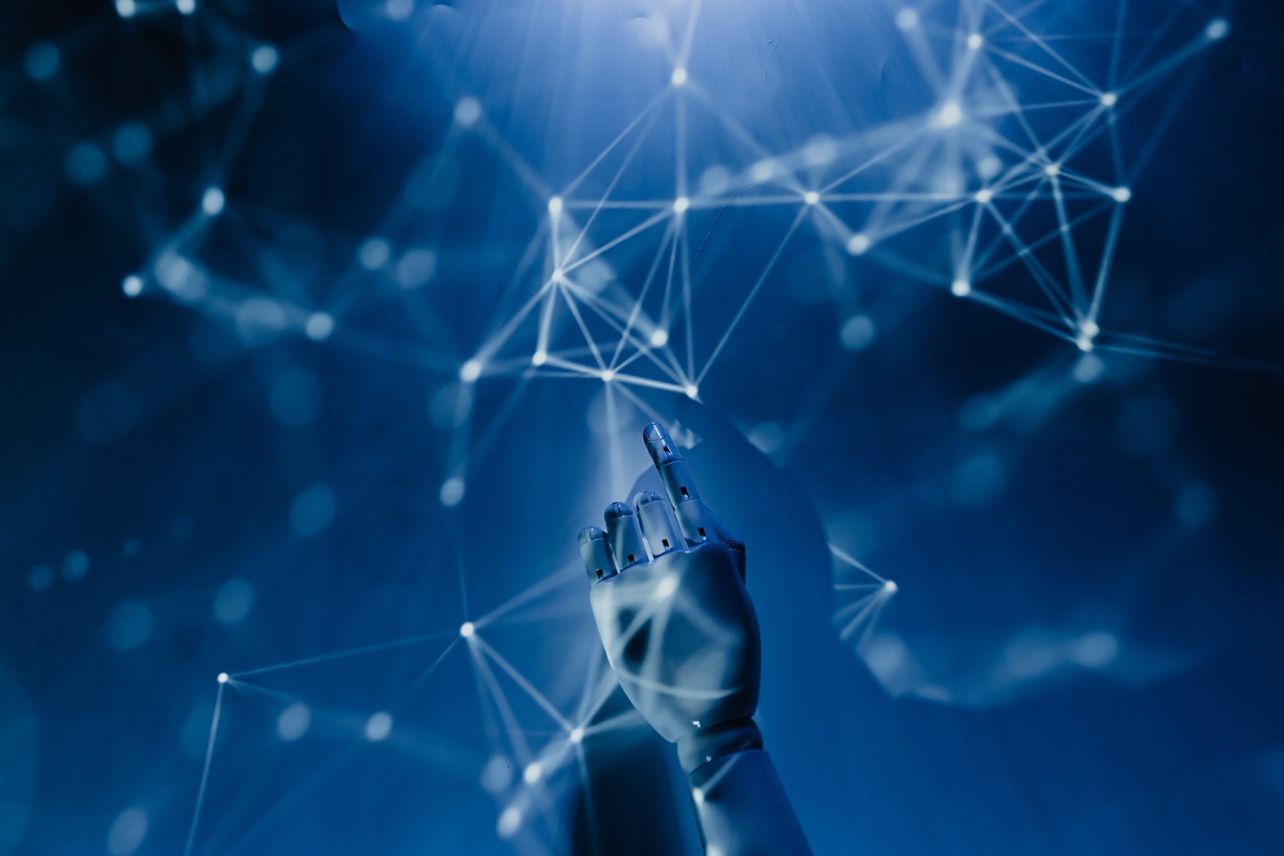 What does chatgpt say about solution blueprinting and it's benefits:
Solution blueprinting is the process of creating a detailed plan or roadmap for a company's solution, typically for a specific project or initiative. It involves identifying the key requirements, objectives, constraints, and risks associated with the solution, as well as developing a clear and comprehensive design for how the solution will be implemented.
The benefits of using a solution blueprint include:
Improved decision-making: A solution blueprint provides a clear and detailed plan for how the solution will be implemented, which helps stakeholders make better-informed decisions about resource allocation, timelines, and other critical factors.
Reduced risks: A solution blueprint can help identify potential risks and challenges early in the process, which allows for proactive risk management and mitigation.
Increased efficiency: By providing a clear plan for how the solution will be implemented, a solution blueprint can help reduce the time and effort required for implementation, as well as minimize delays and rework.
Better communication: A solution blueprint provides a common language and understanding for all stakeholders involved in the solution, which can improve communication and collaboration throughout the implementation process.
Greater alignment: By creating a shared understanding of the solution and its objectives, a solution blueprint can help align all stakeholders around a common goal, which can improve overall project success.
#collaboration #success #project  #solutionblueprinting #design
We launched our new website, get inspired today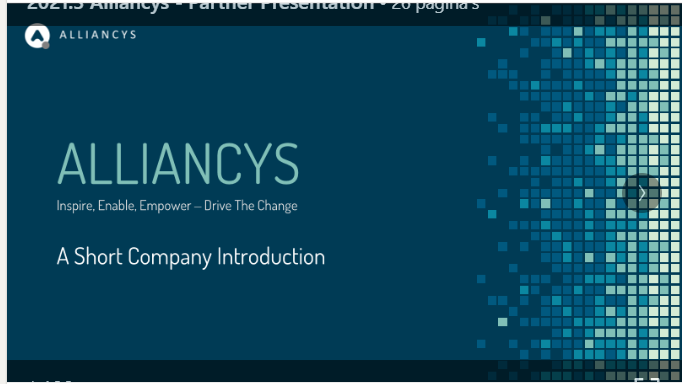 "You don't need a group of superstars, you need a team working together to bring you better results."
Finding Business partners with the same level of enthusiasm and commitment that we have are important to us, but who also shares the same business philosophies. No single person is a master of all things business, you should compliment each other.
Let's inspire people, enable organisations and empower portential
Get
InspiredEnabledEmpowered
Today!
As part of our services portfolio we design solutions that facilitate complex (and simple) change. We capture the needed changes as part of so-called Solution Blueprints, which can then be used to define a change strategy and plan. In most cases these Solution Blueprints are designed custom made for specific clients and their specific needs.
Let us
InspireEnableEmpower
your organization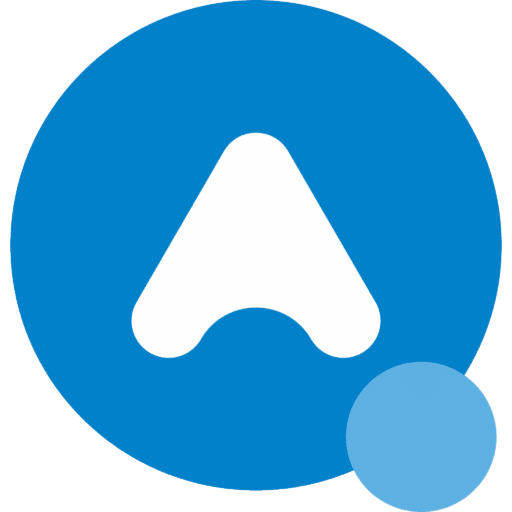 Drive the change: Inspire. Enable. Empower.
Address
Zwolsestraat 296,
2587 WD The Hague
Netherlands